Pink Ribbon Tea honors breast cancer survivors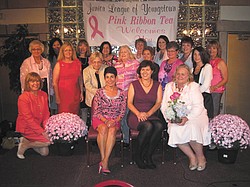 Photo
SPECIAL TO THE VINDICATOR Those involved with the 19th Annual Pink Ribbon Tea are, from left in the first row, Suzanne Fleming, Annette Camacci, Jennie Nash and Sue Berny. In the second row are Barb Schuller, Katy Shroder, Linda Sisek, Carolyn Stoneburner, Toni Douglass, Susan Stewart and Anne Marie Newman; and in the third row are Sue Trebilcock, Paula Stefanski, Mary Alice Boyd, Rae Lackner, Leah Wilson, Pat Butto and Karen Thomas. The annual event celebrates the survival of women diagnosed with breast cancer.
Staff report
BOARDMAN
At its 19th Annual Pink Ribbon Tea, the Junior League of Youngstown honored breast cancer survivors at The Georgetown on South Avenue.
Keynote speaker Jennie Nash shared that her sense of humor helped her to overcome the difficult illness.
Nash, Wellesley College graduate, shared some of her book "The Victoria's Secret Catalog Just Keeps on Coming and Other Lessons I Learned from Breast Cancer."
She is working on another book, "The Last Beach Bungalow," about a survivor's search for home.
Denise DeBartolo York and the DeBartolo Corp. sponsored her appearance in memory of Sallie McKelvey.
The sustaining members of the Junior League organized the event to celebrate survivors and provide resources for newly diagnosed women.
More than 400 women attended the tea, which was initiated in 1994.
Other sponsors were the Junior League sustaining members, Humility of Mary Health Partners, HMHP Foundation, HMHP Cancer Centers, Akron Children's Hospital Mahoning Valley, American Cancer Society, Cafaro Foundation, Dunham Family Foundation, Farmers Trust Co., Millwood Inc., Print Factory, Surgical Center at Southwoods and the Breast Cancer Advisory Board at St. Elizabeth Health Center.
More like this from vindy.com