Overtime pay: Canfield girls win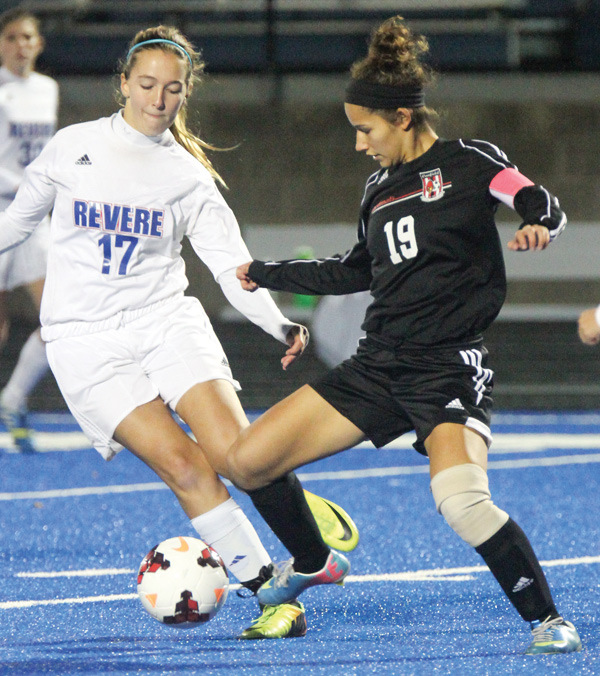 ---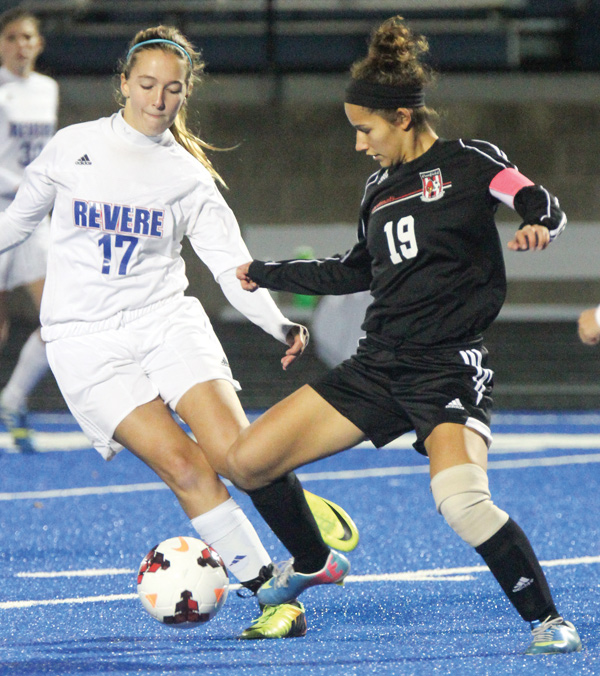 Photo
Canfield's Paige Bidinotto (19) and Richfield Revere's Hailee Zendlo (17) battle for control of the ball during a Division II regional semifinal Tuesday night in Ravenna. Canfield won, 4-3, in overtime.
By Ryan Buck
Ravenna
Canfield High soccer coach Phil Simone is a laid-back dude. There are the occasional jabs at a referee or a guarded Tiger Woods fist pump when something goes well.
For him to suddenly bust out a decent vertical jump, on a bum knee no less, is a rare feat. Sophia Mancini gave him a reason to do that Tuesday night at Portage Community Bank Stadium,
Canfield's junior forward broke a 3-3 tie with 10:20 remaining in overtime in a Division II regional semifinal match against Richfield Revere.
Canfield (15-2-3) battled back from three deficits before finally grabbing its first and only lead of the night — and a 4-3 victory — on Mancini's sudden death winner, which set off a wild scene on the Cardinals' sideline.
Coaches included.
"To keep coming from behind ... the heart and the effort that they showed, phenomenal from the girls ... all of them," Simone said.
Canfield, which tied Revere (13-4-3) during the regular season, took to the offensive in the overtime and Paige Bidinotto found Mancini between the final two Minutemen defenders 20 yards from goal with an open shot.
"I saw the goalie off her mark and the front post was open," Mancini said. "I just hit it. Biggest adrenaline rush I've ever felt in my life. We've worked so hard for this and we really do deserve this win."
After Canfield forward Bailey Fischer tied the match late in regulation, Simone had a quick message for his team before the Cardinals took the field for overtime.
"Can't sit back," said Simone, who will also lead the Canfield boys against Revere tonight in a Division II regional semifinal. "We've got to go after them and get the win. We can't take the chance of a sloppy goal being scored on us so we've just got to attack, put pressure on them and go for it."
All night long, the Cardinals had answers for each of Revere's goals. Less than three minutes into the game, Alexa Langenfeld gave the Minutemen a 1-0 lead.
After watching Bidinotto and Fischer fire away at Revere goalkeeper Lydia Franks for the next 15 minutes, Anita Mancini, Sophia's younger sister, dribbled past the collapsing Revere defense and appeared to be stopped. She poked the ball ahead, took one touch with her left foot and tied it.
Revere freshman Audrey Harding put her team back ahead with 4:51 left in the first half.
SDLqNo team ever likes to play from behind," Simone said. "We had some organizational problems in the back tonight. The defensive attacking of the ball, we didn't have on several occasions."
Two minutes into the second, Sophia Mancini headed a bouncing ball over Franks' outstretched arms for her first goal of the match. With 21:30 left in the game, Amanda Gallo slid a shot past Abel for Revere's third lead, setting the stage for Fischer to tie it.
The Cardinals pushed four players forward, hoping for a desperation goal. Fischer, a speedy forward, ran ahead of Revere's last defender on a perfectly played forward pass and deftly pushed it past Franks with 2:55 left on the clock.
Canfield withstood Revere's final pair of scoring chances before time expired.
The Cardinals will face Shaker Heights Hathaway Brown in a regional final at 4 p.m. at Brecksville-Broadview Heights High School.
The Blazers beat Canfield, 2-0, on Sept. 21. Hathaway Brown beat Akron Hoban, 1-0, in another regional semifinal Tuesday night.
More like this from vindy.com
October 30, 2013 12:10 a.m.