Mobile library pops up downtown Youngstown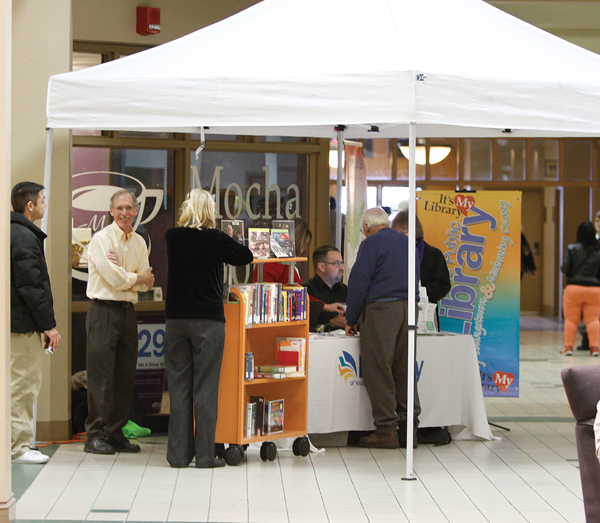 ---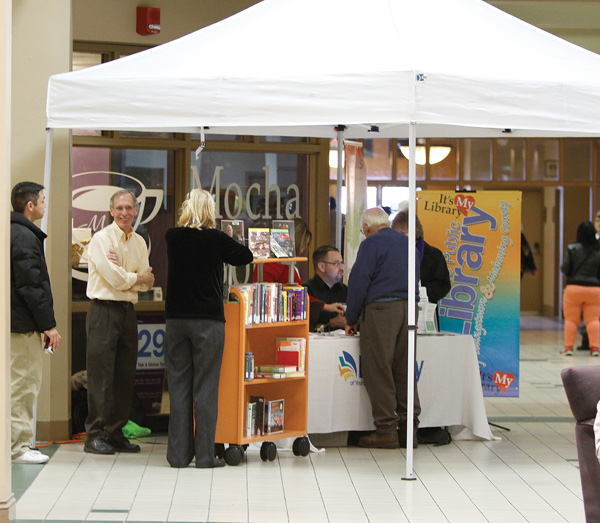 Photo
The public was invited to check out and return books and movies, ask reference questions and sign up for library cards at the Public Library of Youngstown and Mahoning County's first Pop-Up Library on Tuesday at the city-owned 20 Federal Place. The goal is to take the library where the patrons are. The Pop-Up Library travels in the back of a pickup truck. It will again be at 20 Federal Place in downtown Youngstown from 11 a.m. to 2 p.m. Nov. 19 and Dec. 10.
By PETER H. MILLIKEN
YOUNGSTOWN
A portable public library popped up in the city-owned 20 Federal Place in downtown Youngstown.
It was the first time the Public Library of Youngstown and Mahoning County took its show on the road Tuesday in the form of its new Pop-Up Library.
Patrons could check out and return books and movies, ask reference questions and sign up for library cards at the library that popped up under a tent.
"We think it will be a fun and exciting way to get books and materials into the hands of people really quickly where they are, as opposed to where we are" in traditional library branches, said Heidi Daniel, library director.
"We can go pretty much anywhere. You never know where you might see us," she added.
The Pop-Up Library is the first mobile-library concept the local system has used since it discontinued its bookmobile more than 20 years ago.
The new idea arose here from requests to Daniel for more mobile libraries that came from several local residents at a community meeting. Such temporary traveling libraries are part of a recent national trend, Daniel said.
"We're doing a lot of outreach, and we're actually taking the library out into the community," said Anne Liller, manager of urban branches and community engagement coordinator.
"We brought a lot of fiction. We brought some books on CD," along with magazines and children's books, Liller said.
Stuart Gibbs, business and investment librarian at the main library, and Rose Mejia, head library clerk, staffed the Pop-Up Library.
"It helps us reach a population that doesn't normally come to the library. People can come on their lunch break or just when they're walking through" while shopping, Gibbs said.
"As our society has become increasingly mobile, it is more important than ever that we take the library where people are," said Josephine Nolfi, manager of youth services and programming.
Kenneth Winphrie of Youngstown and Anthony Antinone of Girard signed up for library cards at the portable library.
"It's a good thing. It could benefit just about anyone in Youngstown or traveling through Youngstown," Winphrie said. "Anywhere you can grab a book and gain knowledge and read something, it's good."
"It helps people sign up easier than finding the library" at a traditional permanent branch, said Antinone, who stopped at the portable library as he arrived for work at the VXI call center at 20 Federal Place. "It was very convenient," he said of the mobile library.
Atty. Alan R. Kretzer of Canfield, whose law office is on the building's mezzanine, borrowed the best-selling, newly released novel by Lisa Scottoline, titled "Don't Go."
"It obviously was useful and convenient to me today," Kretzer said of the Pop-Up Library. "I think it's a good concept to try, and they can probably pinpoint areas where it does better than others and have them in those areas where it seems to work," Kretzer said.
The portable-library concept now in use is "more cost-effective" than operating a bookmobile, said Janet Loew, library communications and public-relations director. "It enables us to go more places," than a bookmobile, she observed.
Its content can be varied according to the venue, Liller added. For example, the Pop-Up Library will feature children's science books when it appears in the OH WOW! The Roger and Gloria Jones Children's Center for Science and Technology from 10 a.m. to 2 p.m., Dec. 7, Liller said.
Museum admission will be free that day under a sponsorship from Pizza Joe's. The museum is at 11 W. Federal St.
The mobile library was in the lobby of the downtown building that previously housed the headquarters of the former Phar-Mor drug chain and Strouss Department Store.
"I thought it was a good way for the city of Youngstown, especially 20 Federal Place, to team up with another partner, the Mahoning County library, in just enhancing education, as well as informing our citizens that the libraries have so much to offer all of us on a daily basis," said Sean McKinney, the city's commissioner of buildings and grounds and the mayor's interim chief of staff.