Warren officials taking extra precautions at Harding, elsewhere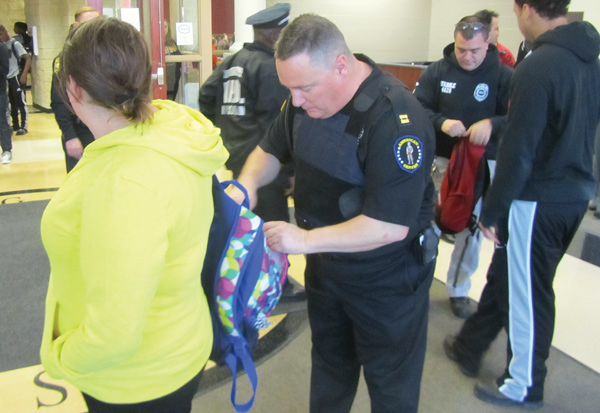 ---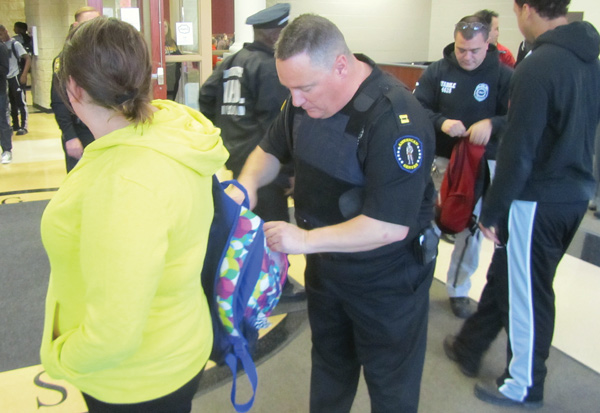 Photo
Warren police brought extra officers to assist regular security at Warren G. Harding High School on Tuesday morning to check students entering the building after several recent violent incidents with ties to the shooting death of Taemarr Walker, 24, of Warren by a Warren police officer Oct. 19.
By Ed Runyan
WARREN
In the aftermath of the police-involved shooting death of Taemarr Walker a week ago and other incidents seemingly connected to Walker's death, officials are taking extra precautions at Warren G. Harding High School and elsewhere.
The Ohio State Highway Patrol had 44 officers in Warren on Saturday night, said Sgt. Phil Robinson of the Southington Post. The extra staffing was done at the request of the Warren Police Department.
Extra state-patrol manpower also was provided throughout the weekend, Robinson said.
Warren school officials used an automated phone system to ask students not to bring backpacks to school Tuesday. Backpacks that were brought to school were checked by extra Warren police on hand, as well as the regular security staff.
A woman dropping off her granddaughter at Harding on Tuesday morning said as long as her granddaughter is safe, the extra security doesn't bother her.
"It's a sign of the times," she said. "It's too bad it has to be that way."
LaBrae schools also took extra precautions Monday, refusing to allow anyone to enter the building starting about noon, said A.J. Calderone, LaBrae superintendent.
Parents were notified, and the measure was taken because of information received regarding a shooting on Jackson Street Southwest, several miles from the LaBrae school complex, and information that the shooter left the area in a car, Calderone said.
Warren Township Police Chief Don Bishop also has provided police protection for students on the part of Risher Road in the LaBrae district because of Taemarr Walker's death on Risher Road Southwest in Warren on Oct. 19.
Some of the extra security in the Warren school district was because of false rumors being posted on social-media sites on the Internet, one Warren school official said. But there have been other violent incidents in Warren since Walker's death that might or might not be related to Taemarr Walker's death, Warren police said.
Richard Rollison, 24, of Niles, was shot to death early Saturday at the Sunoco gas station, 805 W. Market St., shortly after a confrontation at a tavern on Highland Avenue in Warren Township.
In both incidents, TaShawn Walker, 26, brother of Taemarr Walker, 24, was involved, police said. TaShawn is charged with murder in Rollison's death and is awaiting extradition back to Ohio from Texas, where he was arrested Monday afternoon.
Lt. Jeff Cole of the Warren Police Department said the department has been on heightened alert since Taemarr Walker's death because "emotions are running high."
Three other incidents were reported by Warren police over the past week at or near the Kenwood Drive home where Taemarr Walker lived or near the home where his mother lives.
At 1:22 a.m. Thursday, a 57-year-old woman living on Tod Avenue Northwest suffered a glancing bullet wound to her head at a home on Kenwood next to Walker's home. There was a lot of blood, but the woman suffered only a minor scalp laceration, police said.
The woman said she was there to do laundry.
At 12:44 a.m. Monday, Michael L. Green Jr. of Youngstown Road, Niles, was arrested at the residence where Taemarr Walker lived on Kenwood and was charged with two counts each of carrying a concealed weapon and being a felon in possession of a firearm after he purportedly fired into the house. No one was injured.
Trooopers with the Ohio State Highway Patrol detained Green as he tried to leave in a car. Warren police officers joined the state troopers and found a pistol and an SKS assault rifle with 100-round drum magazine inside the car with Green, who also was wearing body armor.
Green appeared in Warren Municipal Court on Monday, entering innocent pleas, and is was being held in the Trumbull County jail without bond until his next hearing Tuesday.
A Trumbull County grand jury refused to indict Green in July on charges of receiving stolen property and being a felon in possession of a firearm out of Niles.
But he received a seven-month prison term in 2003 on drug charges and was placed on probation in 2000 for failure to comply with the orders of a police officer.
At 11:17 a.m. Monday, shots were fired at a residence on Jackson Street not far from where Taemarr Walker's mother lives. No one was injured.
On Monday about 7:20 p.m., the same Sunoco Station at 805 W. Market St. where Rollison was shot to death early Saturday was robbed.
No one was injured, and the thief escaped with a small amount of money, Warren police said.