Dogs rescued from South Side home get TLC at Animal Charity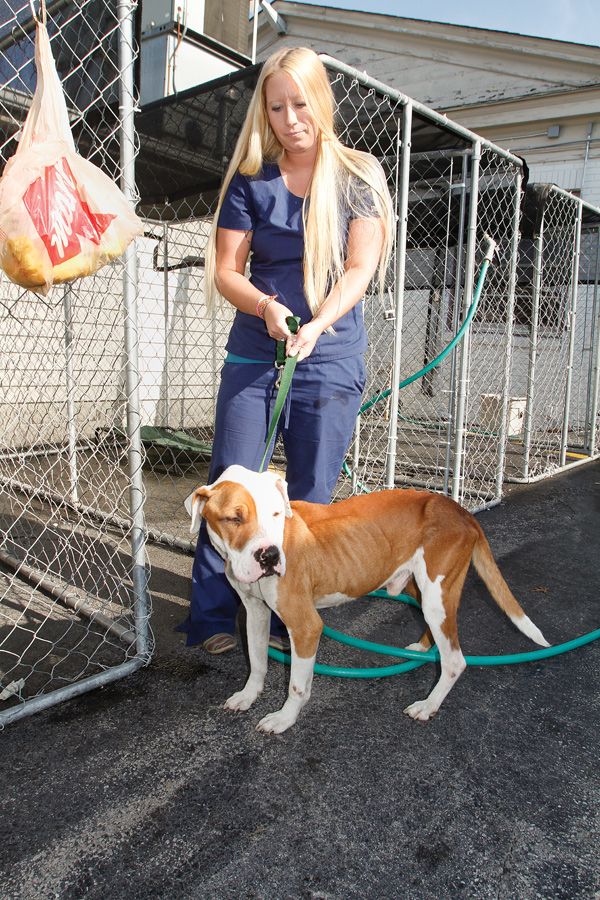 ---

Photo
Kaylee Forst of Animal Charity on Tuesday holds Petey, who was found at a South Side home Monday by humane agents with his mouth sealed by duct tape. He's had a few good meals since then and also has been cleaned up.
By Joe Gorman
Youngstown
It didn't take long for Petey, the terrier mix seized Monday by humane agents from a South Side home, to figure out what to do once the tape was removed from his muzzle.
The bowl of food in front of him did not last long, said humane agent Christopher Flak.
"He literally inhaled that bowl of food," Flak said.
Petey and a Labrador-mix dog were taken from a 131 E. Lucius Ave. home after agents received a tip that dogs were being mistreated. They were chained to the garage in the back, and both looked severely malnourished.
Petey had the tape around his mouth, placed there by a 19-year-old man who told agents he taped him Monday morning because the dog would not stop barking.
Petey had the tape taken off back at the Animal Charity offices by a veterinarian because Flak said it was on pretty good and he did not want to risk hurting the dog. He said Petey was nervous and growled during the procedure, but otherwise was fine, and as soon as he was done, he began eating. He even made sure the food did not go away, Flak said.
"He put his paw in the bowl to hold it still," Flak said.
Flak said they are familiar with Petey and that he had a severe case of heartworm when they came into contact with him about a month ago. Since then, he ended up in the home on East Lucius Avenue. The people there told him someone gave Petey to them one day.
Petey and the Lab mix, who the people in the home said was a stray, were fed and cleaned and examined after they were taken back to Animal Charity, Flak said.
Charges are pending against the 19-year-old man who put the tape on Petey's mouth, Flak said.
Flak said the dog was far worse than when humane agents saw him a month ago.
"He's lost 19 pounds since then," Flak said.
Both dogs will be housed with foster families when they are healthy. If the owners are forced to give up the dogs after the charges are filed, they will be eligible to be adopted, Flak said. He said the prognosis for Petey's recovery from the heartworm problem is good.