Ceremony celebrates progress at Austintown racino site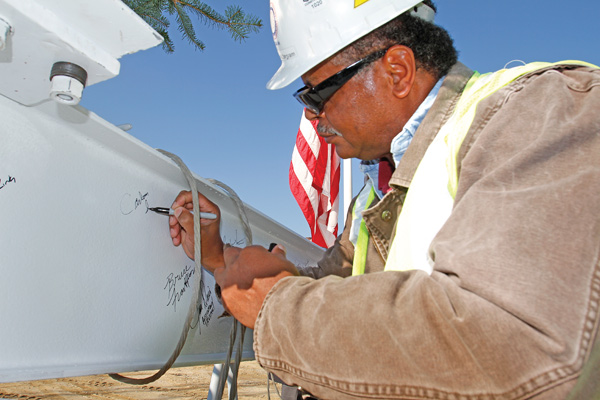 ---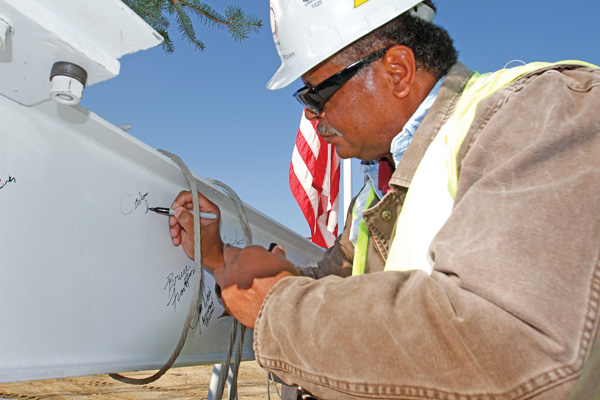 Photo
Carlton Ingram, Local 66 operating engineers business manager, signs a steel beam before it was placed on the main building at the Hollywood Gaming at Mahoning Valley Race Course site in Austintown on Tuesday.
Ceremony marks progress at Austintown racino site
Union workers, Austintown trustees and Penn National representatives gather for 'topping off' ceremony.
By Kalea Hall
Austintown
Ironworkers, the new racino's future general manager and township trustees gathered for a ceremony Tuesday morning to top off the facility's final steel beams.
"I love" Penn National, said Michael Galle, who will be the general manager of the Austintown racino. "I love how it gets involved in the communities."
Construction on the $125 million Hollywood Gaming at Mahoning Valley Race Course began in June. Crews had the foundation started in late July. The steel beams for the clubhouse were put up in the fall. More than 879 tons of steel were used in the process.
Now the goal is to get the roof on and continue to put up the outer wall, so crews can work inside the facility during the winter.
"It's important to the time line," said Bob Tenenbaum, Penn National spokesman.
The ironworkers from Kelley's Steel Erectors Inc. of Cleveland were commended for getting the steel beams up ahead of schedule. About 10 percent of the outer walls are also in place along the structure. Workers from Beaver Excavating Co. Inc. of Canton were also commended for their work including grading and excavation.
The structure will have four levels including lower-level seating, a main floor, a spectator level and an officials' level.
The ironworkers, Austintown Township trustees and Penn National employees were invited to sign the final steel beam before it was placed.
David Van Dusen, project superintendent for Turner Construction Co., said the hiring of union ironworkers was a solid decision that paid off.
"They gained about a week of time," said Van Dusen.
Tenenbaum said Penn National will typically use union workers for projects. "It seems to work better for us as far as getting the project done on time and with safety records," he said.
He added unions have been supportive of Penn National coming into various communities.
Trustees Jim Davis and Lisa Oles also were in attendance and both signed the steel beam.
"I got goose bumps," Davis said. "I am astonished at how fast they are moving. To me that is a testament to the iron workers and local labor unions."
Davis noted Penn National has been involved in the community since day one of the project.
Davis and Oles also met with the new general manager.
"We look forward to forming a relationship with him in the future," Oles said.
Galle was appointed by Penn National this month. His appointment as the general manager will not go into effect until January 2014. The racino is scheduled to open at the end of the summer 2014. Galle will have to be licensed by the state's racing and lottery commissions.
Galle has been with the company for 18 years in a variety of roles. He is currently the assistant manager of Penn National's Hollywood Casino in Toledo, which does not have a racetrack.
"All of my career has been in gaming," Galle said. "I am excited to learn."
Galle said his tasks will include the overall operation of the facility. He plans on moving with his family to Austintown.
"I am looking forward to the start of it and making community relations," Galle said.