Cardinal Mooney dealt tough hand in loss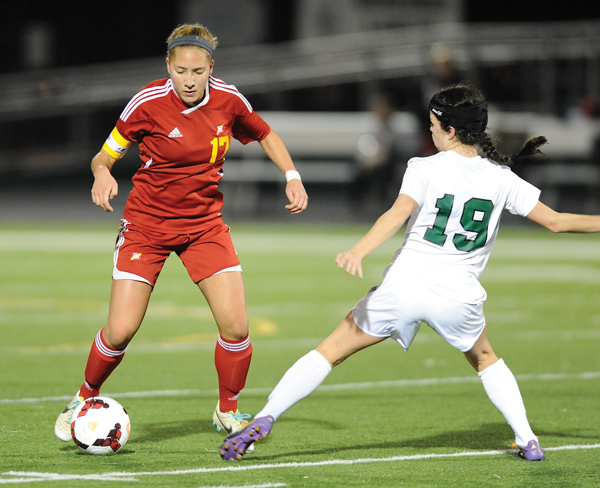 ---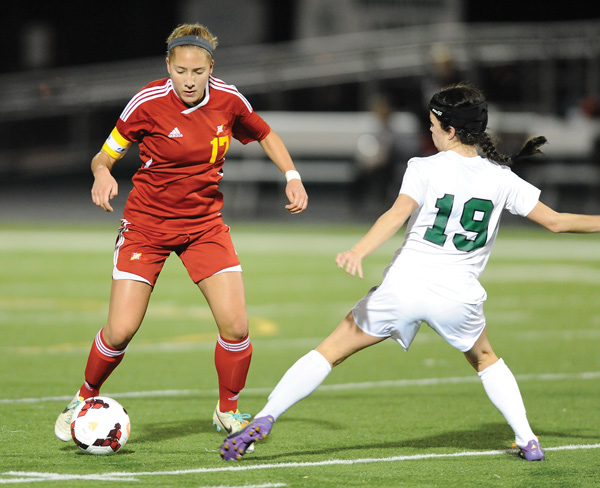 Photo
Cardinal Mooney's Juliana Vazquez (17) dribbles around Elyria Catholic defender Jenna Ellingson (19) on Tuesday night during the second half of a Division III girls soccer regional semifinal.
By Kevin Connelly
MACEDONIA
One girl's stomach and another girl's hand played crucial roles in a Division III soccer regional semifinal at Nordonia High School on Tuesday night.
Elyria Catholic scored its first goal when Danielle Dziak redirected a pass off her midsection and into the back of the net in the first half. Then, a Cardinal Mooney handball inside the box led to the game-winning goal and helped the Panthers to a 2-1 victory.
It wasn't the way either team expected the game to play out, but Elyria Catholic advances to its second consecutive regional final. For Cardinal Mooney (12-7-1), it was a difficult way to end what was otherwise a successful season.
"You know, you have those mistakes all the time," said Cardinals coach Frank Sikich of his team's second-half penalty. "But we had other opportunities too — you can't base it off of one play.
"We had opportunities to go down the field and put something in and we just didn't capitalize."
After playing to a 1-1 tie in the first half, Cardinal Mooney was outplayed in the second. The Cardinals paid for it in the 26th minute when a ball that was sure to cross the goal line was blocked by an illegal touch. The Panthers were awarded a penalty kick and Jenna Ellingson converted to give Elyria Catholic the lead for good.
"I mean, it definitely stings — what loss doesn't?" Cardinal Mooney forward Juliana Vazquez said. "But we had a good run so we have to keep our heads up and focus on the positives for next year."
Vazquez scored the Cardinals' only goal of the match in the first half as she made multiple Panther defenders miss on her way to the net. Cardinal Mooney had nine shots, but failed to register a shot on goal in the second half.
"Every time [Vazquez] got the ball she caused chaos for us in the back," Elyria Catholic coach Tony Rozanc said. "The one mistake we made, we paid for it and she scored. Besides that I was real happy with our performance."
The Panthers doubled up the Cardinals in shots with 18. They also had twice as many shots on goal as Mooney.
"They came out [after half] and won a lot of the 50-50 balls," Sikich said. "We needed to win more of those and it's one of those unfortunate aspects of the game."
Sikich said was pleased with how his team limited the Panthers' quality chances on net and felt being out-shot wasn't the reason they came up short in the end.
The Cardinals entered the game 11-0-1 in their last 12 contests, after starting the season 1-6. Vazquez, a junior, said experience like this will only help Cardinal Mooney for next season, with just four seniors graduating.
"To end the season with [the wins], it definitely feels good going into next year," she said. "It keeps us positive and keeps us upbeat.
"Next year hopefully we can start strong and finish strong."
Elyria Catholic (14-3-3), which lost to Gates Mills Hawken in last year's regional final, will get a chance at redemption Saturday at 3 p.m. at Twinsburg High School. Hawken beat Champion, 6-0, in another regional final on Tuesday night.
"Hawken's a very good team and we look forward to trying to knock them off this year," Rozanc said. "We are definitely more prepared, so I think we're ready to take on that challenge."