Urban legends haunt Zombieland
The Green Man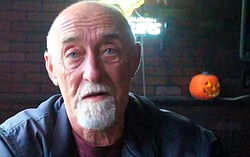 Video
A favorite legend from Western Pa. is the Green Man.
By EMMALEE C. TORISK
EDINBURG, PA.
It's been at least 40 years since Jim Mosley last saw the Green Man, but he still remembers hearing the thwack of his cane on guardrails along state Route 351.
Hitting and counting the guardrails was the only way that the Green Man — who had been badly burned and blinded in an electrical accident years earlier, and whose burn scars had given him a greenish tint — could find his way back home after his nightly walks, recalled Mosley, 65, of Edinburg, as he perched atop a barstool at Tony's Lounge on a recent chilly October evening.
He acknowledged that the story of the Green Man has become one of the many urban legends that haunt western Pennsylvania and, in particular, a desolate and eerie place just across the Ohio state line known as Zombieland, but said the Green Man isn't just local folklore; he was a real person.
"I've been here and seen him and drank with him," Mosley said. "Everybody would take beer and would stop and talk to him. He would sit in your car and have a beer and a cigarette with you."
Patty Wilson, co-founder of the central Pennsylvania-based Ghost Research Foundation and author of "Haunted Western Pennsylvania," explained that joining the Green Man, whose real name was Raymond Robinson, on his treks along the highway became a right of passage for generations of area residents.
Of course, said Wilson, 49, the true story of the Green Man was embellished over the years — his fluorescent green figure allegedly still haunts the rural area. But in a place such as Zombieland, which spans only a few heavily wooded miles in Mahoning Township and is filled with tales of glowing graves and moving statues, it has long been notoriously difficult to separate fact from fiction.
"If you've ever gone out there and stood at dark, it's a very unnerving place," Wilson said. "There's that moment of, 'Wow. This is a lonely, desolate place.' You can see why people would be creating stories about such a place."
Most of the ghostly tales that surround Zombieland date back to sometime between the 1920s and the 1960s, Wilson said, adding that it's "always been kind of odd" — somewhere "people didn't seem to want to stay or to live."
Jonathan Krebs, 20, of Struthers described Zombieland in a similar fashion, calling it "really freaky" and "in the middle of nowhere." He started going there a few years ago when he was a student at Struthers High School.
Krebs remembered how on that very first drive to Zombieland his friends told him about the Puerto Rican Bridge, or the Frankenstein Bridge, which was covered with graffiti and named after the ethnic background of its earliest taggers. Though the bridge recently was replaced, legend still has it that "bridge people" live underneath and will kill those whose names are spray-painted on the bridge.
Only a few feet away from the bridge is an abandoned gas well that is known as the Zombie Torch or the Eternal Torch, among other names. When lit, it emits a clear flame that will ignite a cigarette — or provoke the bridge dwellers.
Krebs said his friends also explained the legends of St. Lawrence Church and Cemetery, which is now a private residence at U.S. Route 224 and Churchill Road. According to local lore, one of the cemetery's graves glows at night, and a statue of the Virgin Mary — whose hands are typically clasped in prayer, in an attempt to protect those who venture into Zombieland — throws open her arms when it's safe to enter.
"There's a lot of stuff going on there that's not really explainable," Krebs said. "Something doesn't want you to be there."
But the story of the Virgin Mary statue is unique among the other legends of Zombieland, Wilson said, as it's filled with hope and with "the belief in something beyond our own lives." It's quite possible that the statue one day "could put her arms open wide and welcome people again," although Wilson mentioned that its doing so — aside from being a sign of hope — would be "downright creepy."
Some places such as Zombieland have always had a negative energy about them, and perhaps always will. Wilson said she didn't encounter anything otherworldly while in Zombieland but noted that she spent only an hour there.
"It's a place of sadness and a place of isolation," Wilson said. "I wouldn't be surprised at all [to learn it was haunted]. It's a really uncomfortable place."
Ryan Bonacci — the 32-year-old police chief of Lowellville, which neighbors Zombieland — said that while growing up he ventured to Zombieland a couple of times, mainly out of curiosity and a fascination with the unknown.
Like Wilson, he never experienced any of the myths firsthand.
"But not everyone goes there with that innocent mentality," Bonacci said. "Some people are malicious. You have to keep a check on things; it's sad that that has to happen."
Most stories of death in Zombieland, including alleged suicides near the area's bridges, are unsubstantiated, but both Bonacci and Wilson cautioned those who want to visit Zombieland to be careful.
In 2000, for example, 12-year-old Shannon Kos of Youngstown was murdered in Zombieland, her body burned by her killers — three men from Struthers, then in their 20s — in an attempt to conceal her identity.
Wilson called Shannon's death "a real tragedy" and said that sometimes, unfortunately, life imitates art. In a place such as Zombieland, she added, there's more to fear from the living than the dead.
"It's still a very lonesome place, and bad people are drawn to lonesome places," Wilson said. "Don't go alone, don't go at night, and say your prayers."
More like this from vindy.com