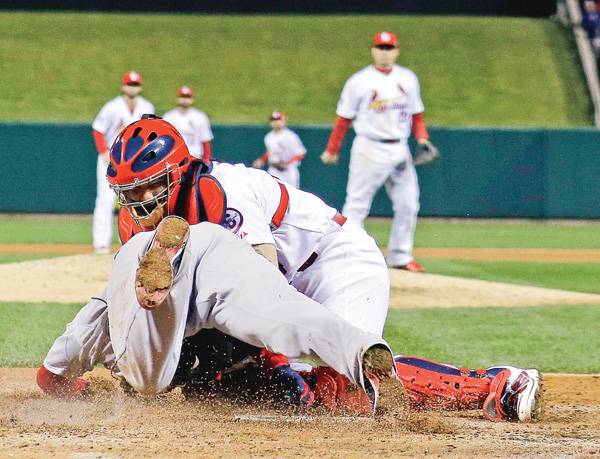 ---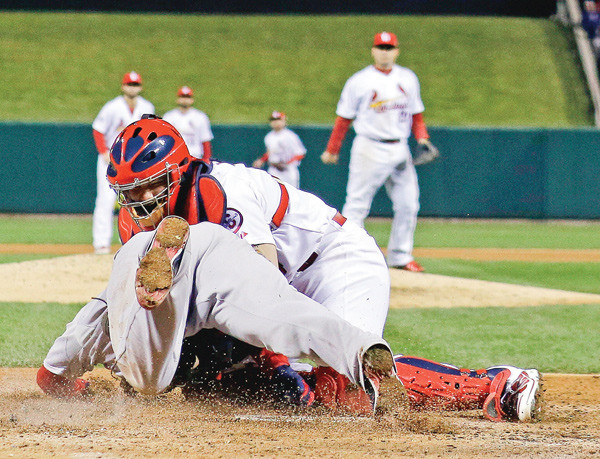 Photo
Cardinals catcher Yadier Molina tags out the Red Sox's David Ross at home after he tried to score from second on a hit by Jacoby Ellsbury during the seventh inning of Game 5 the World Series on Monday at Busch Stadium in St. Louis. The Red Sox edged the Cardinals, 3-1, and lead the series 3-2.
Wainwright suffers his second World Series defeat
Associated Press
ST. LOUIS
Jon Lester pitched the Boston Red Sox within a whisker of yet another World Series championship.
Lester bested Adam Wainwright once again, journeyman David Ross hit a tiebreaking double in the seventh inning and the Red Sox downed the St. Louis Cardinals 3-1 Monday night to take a 3-2 Series edge.
David Ortiz delivered his latest big hit, too, sending this bearded band of Red Sox back to Fenway Park with a chance to clinch their third crown in a decade. Not since 1918 has Boston won the title at its own ballpark.
John Lackey gets the first chance Wednesday night against St. Louis rookie sensation Michael Wacha. A Cardinals win would set up a most spooky proposition for both teams — Game 7 on Halloween night.
Ortiz enjoyed even more success in Game 5 after moving from the cleanup spot to the third slot. He is 11 for 15 (.733) in this Series with two homers, six RBIs and four walks.
Lester enhanced his reputation as an October ace with every pitch. He allowed one run and four hits in 7 2/3 innings, striking out seven without a walk. Nearly the same line he had in beating Wainwright in the opener.
"I think the biggest thing is me and Rossy have had a good rhythm," Lester said. "Early on, we just went back to our game plan from Game 1 and just fell back on that and really just tried to make them swing the bats early, and we were able to do that."
The lefty who's won all three of his career World Series starts had just one scary inning, when Matt Holliday homered in the fourth, Carlos Beltran flied out to the wall and Yadier Molina hit a liner. Other than that, Lester was sharp as a knife.
"He's just a stud," said Ross, the backup catcher who gets paired with Lester. "We rely on him. That's why he's the ace of our staff, because he goes out and pitches like that."
Lester's biggest brush with major trouble came well before his first pitch. He was getting loose near the warning track when a team of eight Clydesdales pulling a beer wagon came trotting by — it's a Busch Stadium tradition and Lester stood aside to watch the horses.
Koji Uehara closed for his second save. Ortiz put the Red Sox ahead with an RBI double in the first, hitting the first pitch after Dustin Pedroia doubled on an 0-2 curve.
Ross, a graybeard on a team led by scraggly veterans, broke a 1-all tie when he hooked a drive just inside the left-field line, and the ball bounced into the seats for a go-ahead double.