Penguins snap 3-game skid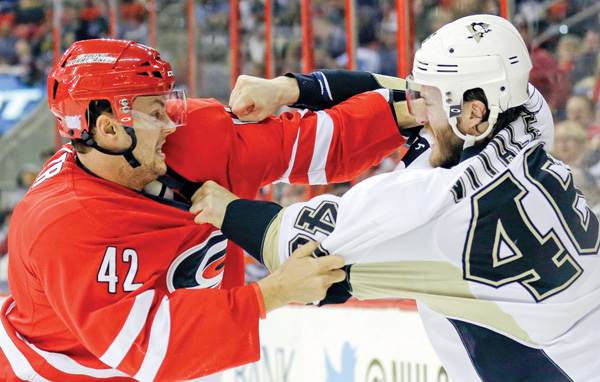 ---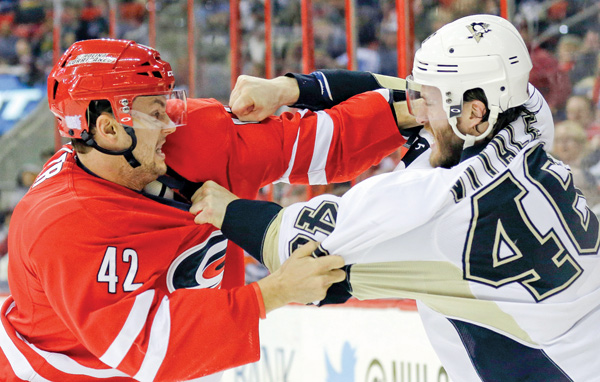 Photo
The Hurricanes' Brett Sutter and Penguins' Joe Vitale come to blows during the first period of their game Monday in Raleigh, N.C. The Penguins downed the Hurricanes, 3-1.
Associated Press
RALEIGH, N.C.
When he eventually tells the story of his first career goal, Pittsburgh rookie Jayson Megna won't embellish any of the details. Sidney Crosby did set it up, and it did ice a victory that ended a losing streak.
That it clicked in off his shin pad? No big deal.
Megna scored his first goal on a deflection after he also earned his first assist, helping the Penguins snap a three-game slide by beating the Carolina Hurricanes 3-1 on Monday night.
"I told him, 'That's not the way you usually dream of scoring your first one,' " Crosby said. "But you take them any way you can get them."
Chris Kunitz and Tanner Glass also scored for the Metropolitan Division-leading Penguins. Brooks Orpik had three assists, Crosby added two and Marc-Andre Fleury stopped 20 shots.
Pittsburgh ended its longest losing streak since 2011-12 by defeating the Hurricanes for the fourth straight time.
"We had some lapses for periods (during the slide) and that hurt us and ended up costing us the game," Crosby said. "When you do good things, you don't want to spoil it with some errors that were mental errors, and we bounced back here tonight and got a big win."
Nathan Gerbe scored a power-play goal for Carolina, which lost its third straight. The Hurricanes remained tied with the New York Islanders for second in the division — five points behind the Penguins — after putting just three shots on Fleury in the third period.
"We kind of got pushed out of the game. We weren't able to generate anything in the third period," coach Kirk Muller said. "Prior to that, they played a heavier game than we did. They won more battles. They grinded it harder, and their big boys at the end of the night were on the scoresheet. ... Some of our guys have to start contributing."
Carolina's Justin Peters made 26 saves in his second straight start in place of the injured Cam Ward.
Ward is expected to miss at least two more weeks after sustaining an unspecified lower-body injury during a loss at Minnesota last week, and including that game, the Hurricanes have lost all three games since he was hurt. Carolina has allowed at least three goals in four straight.
"He battled. He played hard," Muller said of Peters. "We broke down on a couple mistakes that cost us goals, and we had opportunities to capitalize almost similar plays and we didn't capitalize."