In landmark ceremonies, state opens its first processing facilities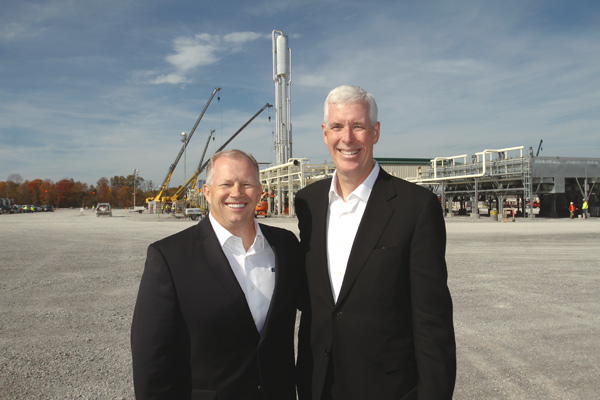 ---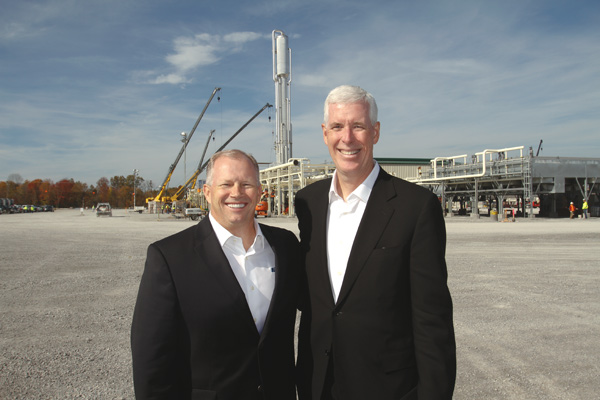 Photo
Jimmy D. Staton, left, executive vice president and CEO of Columbia Pipeline Group, and Robert C. Skaggs Jr., president and CEO of NiSource Inc., attend a dedication ceremony for the Hickory Bend plant in New Middletown.
New Middletown
Ohio's unconventional oil and gas industry passed a landmark Monday when state and local officials gathered for two separate dedication ceremonies at natural-gas processing facilities considered crucial to fulfilling the Utica Shale play's potential.
In the Mahoning Valley, where the first ribbon was cut at Pennant Midstream's Hickory Bend processing plant on State Line Road in New Middletown, senior executives, township trustees and Gov. John Kasich talked about the future of the state's economy and the key role the facility will play in capitalizing on the hydro- carbons pulled from the Utica in Northeast Ohio and the Marcellus Shale play in western Pennsylvania.
First announced in December 2012, Hickory Bend is expected to come online in mid-December and begin processing natural gas by the end of that month.
In all, Hickory Bend represents a $375 million investment.
Fifty-five miles of wet-gas gathering lines will stretch north into Pennsylvania and through parts of eastern Ohio, with the capacity to collect 600 million cubic feet of wet and dry gas per day.
The mixture will be sent to Hickory Bend where the dry gas will be separated and put into sales, while the wet gas will be sent south to Utica East Ohio Midstream's fractionation facility in Harrison County, which is partially up and running. State and local officials also gathered for a dedication ceremony there Monday.
Robert C. Skaggs Jr., president and chief executive officer of NiSource Inc. — which has partnered with Harvest Pipeline Co. to form Pennant Midstream and make Hickory Bend a reality — said the company plans eventually to invest billions of dollars in Ohio to build the infrastructure that exploration and production companies will require to sell the oil and gas they produce.
He said such infrastructure will one day help make the Utica "the fountainhead of energy for the U.S."
Chad Zamarin, chief operating officer of NiSource Midstream Services and president of Pennant Midstream, said gas will arrive for processing slowly when the plant starts running at the end of the year, but he added that when its capacity of 200 million cubic feet per day nears its maximum, another facility will be constructed.
Zamarin said the company plans to build two more cryogenic processing plants on the New Middletown property within the next three to five years, for an investment of $1 billion, and a processing capacity of 1 billion cubic feet per day.
For now, the plant will employ about 24 workers, all of whom were hired locally in recent months, Zamarin said.
During the plant's construction, more than 500 construction workers were employed at the site.
"We've been focused on midstream development for sometime now," said David Mustine, director of energy polymers and chemicals for JobsOhio, who spoke at Monday's dedication. "We knew it was important for three reasons: it creates jobs, it creates capital investment and it develops the Utica."
As company executives and others spoke at the event, a separate camp of protesters had gathered in Halloween costumes to voice opposition to the state's burgeoning shale industry.
Wielding signs and pacing just outside the fence on State Line Road — close to where a large, white tent had been set up for about 100 guests who attended the dedication — the protesters' megaphones could be heard.
But the noise did little to impede the progress of the ceremony.
When Kasich took the stage, he took a jab at the protesters by saying how important facilities such as the one in New Middletown will be for the long-term viability of the Utica.
"We don't like to see Texans and Oklahomans here," Kasich told the crowd. "We'd rather have Ohioans working here."
He said more training and employment opportunities were slowly making the state's shale industry more native. He also noted the supply chain that is cropping up as a result of its presence, and the cost benefits that manufacturers are beginning to realize from an abundance of natural gas and the low-cost power it creates here.
Kasich traveled to Harrison County after the New Middletown event to participate in the opening there as well.
The Utica East Ohio facility eventually will have the capacity to process 800 million cubic feet of natural gas per day. It also will be able to separate, store and transport an additional 135,000 barrels of oil and natural-gas liquids per day.
The processing facilities are considered essential in turning the Utica into more than just an emerging play.
Lower gas prices, a lack of infrastructure and rising production have created a transportation bottleneck in moving oil and gas to other markets for sale.
Last week, the Marcellus Drilling News said in its Databook Series — a collection of research about the region's shale plays — that 111 midstream and infrastructure projects are planned or underway in western Pennsylvania and Northeast Ohio.
Those projects, the research said, represent $40 billion in investment, with the cost of each project averaging $363 million.