County vehicle auction offers bargains for the mechanically-inclined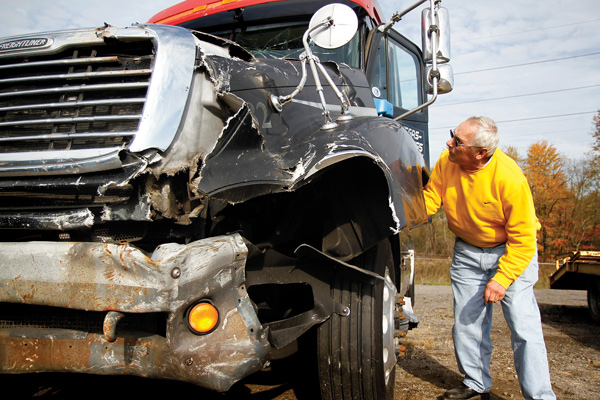 ---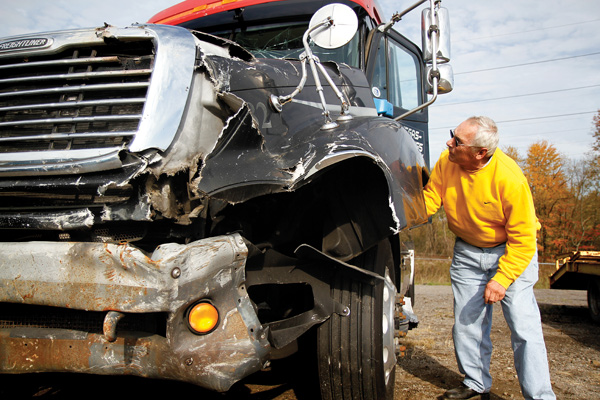 Photo
Charles Jungfleisch of Georgetown, Pa., examines a semi tractor that was for sale in a Monday surplus-vehicle auction after it had been forfeited to the Mahoning County Prosecutor's Office as restitution by a Las Vegas truck driver who rammed it into an Austintown nightclub. The highest bid for it was $6,500.
YOUNGSTOWN
The Mahoning County auction of well-used vehicles and equipment was a good place for mechanically inclined people to search for bargains.
Fifty-nine surplus items, mostly vehicles and trailers in fair or poor condition, were sold as-is to the highest bidder at Monday's auction at the sanitary engineer's office on Industrial Road, which drew 90 bidders.
Probably the most unusual item auctioned by George Roman was a semi tractor, forfeited to the prosecutor's office by a Las Vegas truck driver who crashed it into the Club 76 nightclub in Austintown after he was ejected from the club Nov. 24, 2012.
The highest bid for it was $6,500, but that bidder did not want to identify himself.
The truck driver, Suren Aramyan, 45, pleaded guilty to attempted felonious assault and vandalism and was put on five years' probation by Judge Lou A. D'Apolito of Mahoning Court Common Pleas Court, who ordered the truck auctioned to make restitution.
The 2004 Cody Freightliner with a sleeper berth has a smashed windshield and missing headlights.
The county has never had such a vehicle in its auction before, said James Fortunato, county purchasing director.
Most of the vehicles sold are former sheriff's department and engineer's or sanitary engineer's department vehicles with high odometer readings.
"You get a lot of people from [auto] wrecking yards," coming to bid, said Ron Weimer, garage foreman at the sanitary engineer's department. "They're usually out there for a reason. Either they're rusted out; they've got so many miles they're burning oil, or there's too much cost for maintenance and repair, and it's time to get rid of them."
"Some will rehabilitate vehicles. Others will just use them for parts," Fortunato said of the bidders. "There are bargains if you're a handyman mechanic."
"I'm looking for the deals on the used vehicles," said Rick Bates, owner of Bates Garage on Glenwood Avenue. He looks to buy such vehicles "to repair them and sell them and use them for parts" for some of his customers, he explained.
"I'm hoping to pick up a truck," said Alan Glass of Youngstown. "Dumps would be wonderful if the price is right."
The bidders "could be anybody and everybody. You get your backyard mechanic. You get an end-user that needs a piece of equipment. You get a guy that just likes to tinker," Roman said.
Among the items for sale were 13 Ford Crown Victorias, which are former sheriff's cruisers from model years 1999 to 2007, whose known mileages range from 150,635 to 225,000. Several of them sold for $400 each.
A 2001 Dodge Ram 2500 three-quarter-ton van with about 88,000 odometer miles sold for $500.
A 2002 Ford F-150 4X4 pickup truck, including a snowplow, sold for $1,700.
Roman, a Canfield auctioneer, conducted the auction over a bullhorn from the back of a pickup truck. Other Items in the auction were vans, dump trucks, pickup trucks, eight sign display trailers, a 1968-vintage tanker trailer, a backhoe, a tractor mower, a weed trimmer, a generator and three chain saws.
Some of the former county engineer's trucks still had snowplows attached to them.
A minimum of about 25 vehicles is generally needed to make the sale worthwhile for the auctioneer, and the county conducts such an auction about every two years, Fortunato said.
State law requires that the county conduct an auction or take sealed bids whenever more than $2,500 worth of county property is to be disposed of, he said. State ethics laws prohibit county employees from bidding in these auctions.