Warren vigil urges peace in wake of shooting death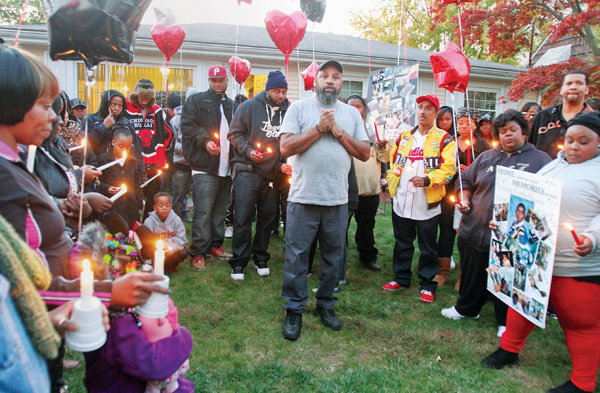 ---
Vigil For Murder Victim

Video
A candlelight vigil for Warren murder victim Richard Rollison lV was held tonight.
By Ed Runyan
and EMMALEE C. TORISK
WARREN
Richard Rollison III of Warren says his son, Richard Rollison IV, 24, told him and police that the man who shot him six times early Saturday was doing it in retaliation for the death of Taemarr Walker a week ago.
His son named the person who shot him six times at the Sunoco gas station at 805 W. Market St. early Saturday, but the elder Rollison declined to pub- licly identify the person.
Addressing about 100 family members and friends who had gathered Sunday for a candlelight vigil in the front yard of his Southern Boulevard Northwest home, Rollison, 55, asked that his son's death be a lesson, and that it not inspire another unnecessary killing in retaliation.
"Once you take somebody's life, you can't give it back," he said. "Learn from this, and love each other, and put those guns down."
Warren police could not be reached Sunday to be asked whether they believe the Walker killing and the Rollison slaying are related.
Walker, 24, died after being shot by a Warren police officer on Risher Road Southwest at 1:50 a.m. Oct. 19. Police said Patrolman Mike Krafcik was attending to an abandoned car in the ditch when Walker's car came east on Risher and went into the opposite ditch.
Krafcik said on the dash-cam video of another officer that he saw Walker inside the car after it went into the ditch, saw a rifle in the back of the car with him, then saw Walker pulling a handgun out from under the front seat of the car.
Warren Township police said two relatives of Walker's went to the J&L Club on Highland Avenue and started a fight with people who were there celebrating at a private party about 12:30 a.m. Saturday.
The two Walker relatives accused the people at the tavern of celebrating Walker's death. There was a fistfight that moved into the parking lot, then gunfire, but no one was injured from the gunfire, Warren Township Police Chief Don Bishop said. Officers collected six spent .45-caliber shell casings from the parking lot.
When asked why anyone would retaliate against his son for the Walker killing, Richard Rollison III said he was told his son was not the intended target.
"They were after someone else," the elder Rollison said. "It was a senseless thing."
The elder Rollison said his son was shot about 1:30 a.m. He got a call and arrived about 20 minutes later and was able to talk to his son, along with police, before his son was taken to the hospital. His son went to St. Joseph Health Center in Warren first, then to St. Elizabeth Health Center in Youngstown, where he died at 4:58 a.m.
21 WFMJ-TV, The Vindicator's broadcast partner, reported that the car Rollison was in was stolen while he was lying on the ground bleeding.
"My son was a good person. He never did anything to nobody," the elder Rollison said, adding that the younger Rollison has a 2-year-old son, Richard Rollison V, and that his son's girlfriend is pregnant.
Holding a candle during Sunday's vigil, Brittany Washington, 26, of Warren said she couldn't believe it when she found out that "kind-hearted, friendly-to-everybody, always-smiling" Richard Rollison IV had been killed. Washington knew him from Warren G. Harding High School.
"Richie was a good person," she said. "He didn't deserve that."
The elder Rollison expressed, too, that he's dismayed by the violence among young people. He added that his son's death has torn his world apart, and that he's still trying to understand why something like this could happen to "his baby."
"These kids need to stop all the violence. Life's too short," he said. "You break your parents' hearts doing this. It just needs to stop."
Joe Bland, a family friend, spoke during the vigil and echoed Rollison's words, calling for peace in the city of Warren and elsewhere.
He emphasized that "enough is enough," explaining that it's easy to take a gun and kill, but that it requires far more strength and courage to "talk about what went wrong." Retaliation for the younger Rollison's death is not the answer.
"Whatever might be in your mind to do, put it on hold. It'll take your life, whether you go to jail or get killed yourself," Bland said. "We can't keep killing one another."
Richard Rollison IV was sentenced to two years in prison Sept. 20, 2011, for a probation violation on a 2007 conviction for complicity to burglary. He was released from prison Sept. 29, 2012, according to the Ohio Department of Rehabilitation and Corrections website.