Super sub: Gomes helps Red Sox tie series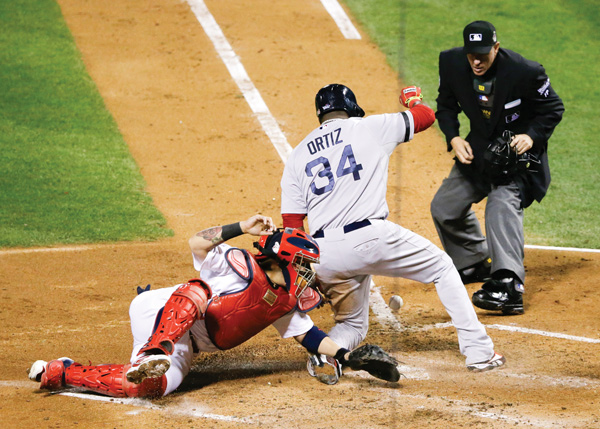 ---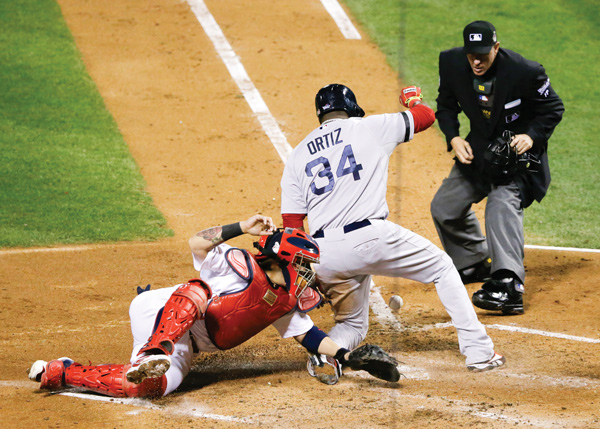 Photo
Home plate umpire Paul Emmel watches as Red Sox designated hitter David Ortiz slides safely past Cardinals catcher Yadier Molina on a sacrifice fly by Stephen Drew in the fifth inning of Game 4 of the World Series on Sunday in St. Louis. The Red Sox slipped by the Cardinals to win 4-2 and tie the series at 2-2.
Associated Press
St. Louis
Jonny Gomes hit a tiebreaking, three-run homer in the sixth inning and the Boston Red Sox rallied to beat the St. Louis Cardinals 4-2 Sunday night, tying the World Series at two games each.
David Ortiz added three hits and also encouraged the Red Sox, shouting at his teammates from second base after a double and later gathering them for a huddle in the dugout.
With the Red Sox in danger of falling into a 3-1 deficit, it was a stroke of good fortune by Gomes — he was a late addition to the lineup when Shane Victorino's back stiffened up, and was 0 for 9 in the Series before connecting off reliever Seth Maness.
Gomes spread his arms wide as he rounded first base, shouted and twice banged his chest. When he got back to the dugout, a couple of teammates gave Gomes' beard a good tug and Mike Napoli joined in with a hard, two-handed yank.
Along with his pop, Gomes showed off the patience that mark Boston hitters. He drew a 10-pitch walk from Cardinals starter Lance Lynn the previous inning, helping set up Stephen Drew's tying sacrifice fly.
Felix Doubront won in relief of starter Clay Buchholz. John Lackey made a rare relief appearance to set up for Koji Uehara's save.
Game 5 is tonight as Cardinals ace Adam Wainwright faces Jon Lester in a rematch of the opener when Boston romped. It'll be a busy sports day in downtown St. Louis with the NFL matchup between the Rams and Seattle a few blocks away.