Mistakes doom Steelers in loss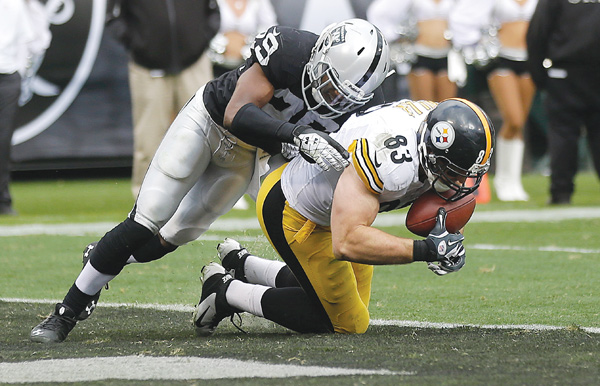 ---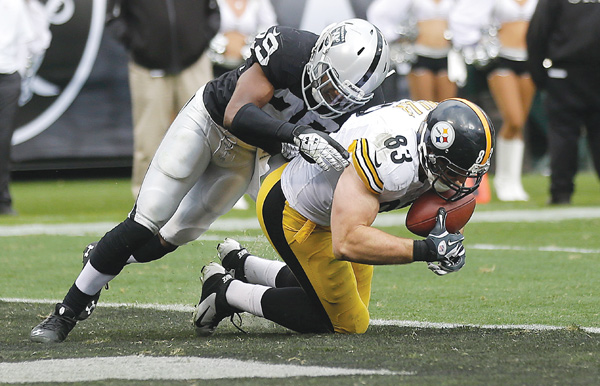 Photo
Pittsburgh Steelers tight end Heath Miller tries to control a pass as he is tackled by Oakland Raiders cornerback and Youngstown State football standout Brandian Ross during the fourth quarter of their NFL game Sunday at the O.co Coliseum in Oakland, Calif. The pass was ruled a catch before being overturned as incomplete, and the Raiders hung on to win 21-18.
Missed field goals, turnovers prove costly for Pittsburgh
Associated Press
Oakland, Calif.
Blown assignments on the opening play of the game put the Pittsburgh Steelers in a hole.
Shaun Suisham's first two missed field goals of the season and a couple of late interceptions by Ben Roethlisberger prevented them from climbing out of it.
Pittsburgh never fully recovered after allowing a record-setting 93-yard run by Terrelle Pryor on the opening play from scrimmage and lost 21-18 to the Oakland Raiders on Sunday.
Instead of building on the momentum from back-to-back wins, the Steelers (2-5) made some of the same mistakes that doomed them during an 0-4 start to the season.
"It hurts," Roethlisberger said. "We felt like we were doing some good things and we were getting better. Today we just weren't there in all phases. We didn't block well enough, we didn't pass well enough, we didn't catch well enough. We just weren't good enough."
Pryor's run was the longest TD run for a quarterback and Darren McFadden added two touchdown runs for the Raiders (3-4), who had lost their previous 10 games coming out of the bye week before beating the Steelers.
Oakland built a 21-3 lead, but then had to hang on for the win.
The Steelers took advantage by a fumble from Jacoby Ford to get in the end zone on a 9-yard pass to Emmanuel Sanders early in the fourth quarter.
Le'Veon Bell's 2-yard TD run followed by a 2-point conversion run by Sanders cut Oakland's lead to 21-18 with 1:24 remaining.
But Oakland recovered the onside kick, leaving the Steelers to lament the two fourth quarter interceptions by Roethlisberger and missed field goals of 34 and 32 yards by Suisham.
"It's no secret the impact my missed field goals had on the game," Suisham said. "We would have won the game if we made my field goals. It's a tough one to swallow; no choice but to do it. I should have been better today and we lost because of it."
The Raiders got the win despite generating no offense in the second half, gaining one first down and 35 yards of offense in the final 30 minutes.
But a defense that sacked Roethlisberger five times and forced two second-half turnovers did enough to give the Raiders their third home win in as many games with Pryor as the starter this season.
"We are becoming a football team," safety Charles Woodson said. "I think we have some good players that have been assembled on this team, and we're learning how to play together. We're learning each other and what each other's strengths and weaknesses are. We're just making some plays out there."
Pryor was far from his best after the first play, completing 10 of 19 passes for 88 yards and two interceptions. He did have his second 100-yard rushing game of the season, finishing with 106 yards on nine carries highlighted by the long run on the first play when linebacker LaMarr Woodley and safety Ryan Clark bit on the fake to McFadden.
"You have to understand the beast that's playing quarterback," Clark said. "You have to understand what he brings to the game and that that's a part of their game and that they can do that. Once a guy like that gets in front of the whole defense, he's a legit 4.4. It's real. It just looks slow because he's 6-6 but he was moving."
Roethlisberger completed 29 of 45 passes for 275 yards but it wasn't enough.