The Gotthardts will celebrate 60th jubilee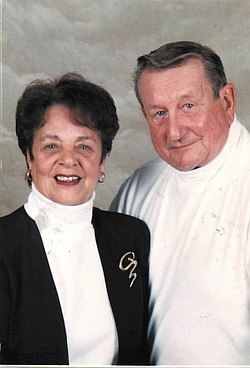 Photo
Mr. and Mrs. Glenn Gotthardt
BERLIN CENTER
Mr. and Mrs. Glenn Gotthardt of Berlin Center will celebrate their 60th anniversary on Mount Washington, Pittsburgh, with dinner and dancing. Their children will host the event in November.
They are Jeffrey Gotthardt of Hudson, Ohio; Cathy Sheptock of Berlin Center; Glenn A. Gotthardt of Howland; Beth Reese of Pittsburgh; and Amy Beck of Canfield. The couple have nine grandchildren and one great-grandchild.
The former Jackie Comparetta married Mr. Gotthardt on Oct. 21, 1953, in Darlington, Pa., at the home of his parents. They lived in Warren for many years.
Mrs. Gotthardt is a homemaker. Mr. Gotthardt has operated several businesses, including Hamp Steel, Select Steel and Select Industries.