For volunteer, compassion is her call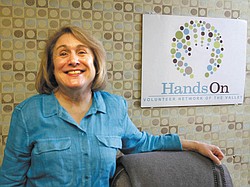 The Vindicator ( Youngstown)

Photo
ROBERT K. YOSAY | THE VINDICATOR: Carol Ross of Boardman makes weekly calls to about a dozen elderly people as part of the Telephone Reassurance Program of HandsOn Volunteer Network of the Valley.
By Sean Barron
BOARDMAN
It's probably safe to say that some senior citizens who experience depression, loneliness and isolation also feel added cheer when they pick up the phone and hear Carol Ross' voice.
"I needed one more thing to fill my life," the 63-year-old Boardman woman said, referring to volunteer work she performs once or twice weekly.
Since last January, Ross, who retired in 1994 after having taught kindergarten 19 years in the Youngstown City Schools, spends part of her time calling and extending compassion to about a dozen older people as part of the Telephone Reassurance Program of HandsOnVolunteer Network of the Valley.
Some senior citizens have dwindling or no family in the area and spend most of their days alone, and others may feel sadness and just need someone to talk to.
But regardless of their situations and needs, they all have Ross' ear and unconditional support.
Ross spoke recently about her volunteer efforts at HandsOn, 5500 Market St., saying she spends about six hours each day contacting the senior citizens.
Ross explained that she's on a first-name basis with each person but refrains from asking personal questions. Instead, she establishes rapport, which usually encourages them to discuss whatever is on their mind, Ross said.
Many older people talk about their health concerns and families, and her job is to listen and offer empathy and emotional support without passing judgment, Ross continued, adding that she also respects the wishes of those who are more reticent.
Along those lines, she talks to a woman whose only family is a brother who lives out of state and whom she sees once a year.
During many calls, Ross said, she listens and speaks only a little, but the seniors feel a lot better simply because they had someone who took time to listen without offering advice or criticism.
After learning about the volunteer agency, Ross wasn't certain in what capacity she wanted to serve, she said. But after she got an up-close look at the phone-reassurance program, the deal was sealed.
Ross said, "I didn't know if I wanted to do it at first, so I listened to another volunteer make a call, and she said, 'Why don't you make a call?''ä"
Ross, who's also a 13-year cancer survivor, said she loves serving others in need and recommends that more people take advantage of opportunities to reach beyond themselves.
"Volunteering is very gratifying," the former teacher said. "I go home so happy. I'm so glad I can make a difference in someone's life."
Also happy Ross is making a positive impact is Maureen A. Drummond, HandsOn's executive director.
"She's always laughing, always with a good perspective on how to approach life," Drummond observed. "She always sees herself as being enriched by people around her."
The HandsOn agency places many volunteers in the Mahoning Valley's nonprofit organizations after screening them and learning of their interests and talents, Drummond noted.
Suffice it to say that Ross' interests are quite varied, because volunteerism certainly is nothing new to her. And it's a family affair.
A while ago, Ross, her 27-year-old daughter, Gina, and 25-year-old son, Peter, both of Cleveland, donated time assisting with bingo at an area nursing home. Gina also volunteers with the Big Brothers Big Sisters organization's Cleveland chapter, where she's a mentor to a girl age 10 or 11.
In addition to her efforts at HandsOn, Ross gives of herself once every other month at the St. Vincent de Paul Society soup kitchen in downtown Youngstown.
Ross says she does not seek recognition but is quick to express thanks for what she has, as well as what she tried to instill in her children.
"I always tell my kids, 'Try to leave the world a better place,''ä" she said, adding, "I just can't tell you how much God has blessed me."