Mr., Mrs. Golis mark their 65th anniversary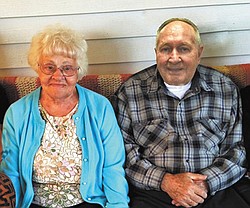 Photo
Mr. and Mrs. Julian Golis
POLAND
Mr. and Mrs. Julian Golis were honored Oct. 23 for their 65th anniversary with a family dinner at home. Their grandchildren David, Rachel and Kristen Mayhew hosted the dinner.
Their children are Richard Golis of Poland, Sonia Niro of Youngstown and Julie Mayhew of Boardman.
The former Maria Stepanuik married Mr. Golis on Oct. 23, 1948, at St. Mary Church in Halifax, England.
Mrs. Golis is a homemaker. Mr. Golis retired as a roll designer from LTV Steel in Youngstown. He is a member of St. Stanislaus Church and was a member of the Eighth British Army Polish Commando Regiment during World War II.