By JOE SCALZO
YOUNGSTOWN
Ursuline vs. Mooney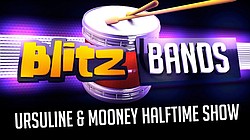 Video Set
Last spring, Cardinal Mooney High football coach P.J. Fecko was approached about playing in camouflage jerseys, an idea he revisited in the summer.
"It's popular with colleges right now," Fecko said. "I decided to go for it."
Without telling anyone, he opted to introduce them for the Ursuline game, waiting until Thursday night to tell his staff while keeping his players in the dark.
"We really didn't know we were wearing them until we were coming down [to the locker room] after pregame warmups," senior Mark Handel said. "He kept that to himself."
It was the first — and last — time Fecko tried to fool anybody on Friday.
In one of the Mooney-est of Mooney victories in the 60-game series, the Cardinals ran for 305 yards and threw just three times, shutting down Ursuline, 29-14, at Stambaugh Stadium.
"Our game plan was to run after them," said Handel, who carried 21 times for 190 yards and three touchdowns. "We felt like our line could out-physical them and we came out and did it."
Junior C.J. Amill added 104 yards on 21 carries for the Cardinals (6-3), who improved to 38-19-3 in the series. It snapped a three-game losing streak to Ursuline, but when asked if he was worried he'd see some "For Sale" signs in his yard after a fourth loss, Fecko chuckled, then shook his head.
"Every year is a new year," he said. "Those years are long gone, just like our state championships and our undefeated seasons are. I've got to deal with this group of young men, who ware playing hard every week.
"It's a great group to be around and be a part of."
Mooney forced three turnovers, including two first-half fumbles, and blocked a field goal to take a 29-7 lead with just over five minutes left. The Cardinals picked up some much-needed playoff points heading into a Week 10 matchup with unbeaten Fitch. Mooney entered the game fourth in the Division IV, Region 11 standings.
"We've been playing good defense all year; we just ran into some really good teams," said Fecko, whose losses have come against teams with a combined 23-1 record. "Our goal going in was to grind it out, eat some clock and run the football."
Ursuline had the same goal, but the Irish managed just 88 yards rushing and were forced to throw the ball 18 times. Senior Chris Durkin passed for 231 yards and a TD and ran for 70 yards and a touchdown for the Irish (4-4), who entered the game third in the Division V, Region 15 standings.
"If we don't fumble the ball in the first half, it could be a different [game]," Ursuline coach Larry Kempe said. "In big games, if you turn the ball over and make mistakes, you're not going to win.
"Also, the fact that we weren't making tackles [hurt]. That is going to kill you and that's what did us in tonight. Mistakes, mistakes, mistakes."
Thanks to their brutal schedule, the Irish may be able to sneak into the playoffs even if they lose next week. Considering their opponent is defending Division III state champion Akron St. Vincent-St. Mary, which is unbeaten and ranked first in Ohio, that's a good thing.
"We've got to get better," Kempe said. "I told the team, we're not playing a good team [next week]. We're playing a great team."