Family dinner honors Spagnolas for golden mark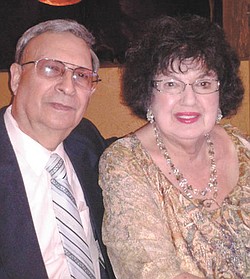 Photo
Mr. and Mrs. John Spagnola
NEW MIDDLETOWN
Mr. and Mrs. John Spagnola of New Middletown were guests of honor at a family dinner Oct. 19 at Caff Capri in Boardman in celebration of their golden wedding anniversary.
Their children and their spouses, Jennie and Steve Virgallito of Austintown and John and Jenelle Spagnola of Poland, hosted the event.
The family includes five grandchildren, Stephanie and Joseph Virgallito and Anna, Jenna and John Spagnola.
The former Elizabeth B. Farinelli and Mr. Spagnola were married Oct. 19, 1963, at Our Lady of Mount Carmel Church in Youngstown.
The couple are members of St. Paul the Apostle Church.
Mrs. Spagnola worked as a cashier and in sales for local retailers.
She also worked for Youngstown Area Grocers Association before retiring.
Mr. Spagnola retired in 1994 from the Ohio Bureau of Employment Services in Youngstown, where he worked in management for 32 years.
He is a member of the local and state chapters of Public Employee Retirees and is a past commander of American Legion Post 565.
He is a U.S. Army veteran and served as an ammunition renovation supervisor from 1954 to 1956.