AFP Local chapter will honor philanthropists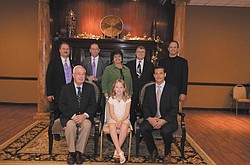 Photo
SPECIAL TO THE VINDICATOR Above are the local philanthropists who will be honored at the 23rd annual National Philanthropy Day luncheon Nov. 15 at Antone's Banquet Centre in Boardman. In front, from left are James Sisek, president of Farmers Trust, representing the Kikel sisters; Olivia Helmick; and Allen Ryan representing Covelli Enterprises. In back are Carmen Pompeii and Joe Humansky, representing Aut Mori Grotto; Rita O'Leary; Gary Gasser, CEO of Gasser Chair Co.; and Robert DiRusso, president of DiRusso's Sausage.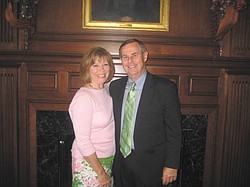 Photo
Staff report
BOARDMAN
The Mahoning Shenango Chapter of the Association of Fundraising Professionals will recognize individuals, organizations and businesses at a luncheon Nov. 15 at Antone's Banquet Centre, 8578 Market St.
The event is the 23rd annual celebration of National Philanthropy Day.
Registration and a reception will begin at 11 a.m., and the luncheon will begin at noon.
Presentation of the awards will follow.
Tickets are $30 per person or $240 for a table of eight. Checks should be mailed to AFP Mahoning Shenango Chapter, P.O. Box 672, Youngstown, OH 44501 by Nov. 4. Include the names of those attending and their contact information. Reservations also can be made online at www.afpmash.org.
Some of those who will be honored are Covelli Enterprises, special recognition for Valley Impact; Al and Suzanne Fleming, outstanding philanthropists; Gasser Chair Co., outstanding corporate philanthropist; Olivia Helmick, outstanding young philanthropist; DiRusso's Sausage, outstanding small business philanthropist; Rita O'Leary, outstanding volunteer fundraiser; and Aut Mori Grotto, outstanding civic organization. The Mahoning Shenango Planned Giving Council will present The Legacy Award posthumously to Angela, Jenny and Josephine Kikel.
For information contact NPD co-chairs Helen Paes at 330-533-3300 or Linda Kostka at 330-702-3000.
More like this from vindy.com