Dash-cam video reveals details of Warren cop shooting aftermath
By Ed Runyan
WARREN
Warren Police: Tow-Truck Witness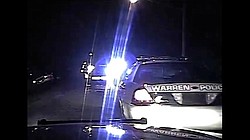 Video
Dash-cam video Warren police Sgt. Bryan Holmes, who interviews a tow-truck driver who witnessed the shooting.
Dramatic dash-cam video released by the Warren Police Department shows Patrolman Mike Krafcik about 18 minutes after he had shot a Warren man to death, calmly explaining to his supervisor how it happened.
In the video from Sgt. Bryan Holmes' cruiser, Krafcik told Holmes that Taemarr Walker was in a car with a female, heading east on Risher Road at high speed toward Krafcik and a tow truck driver attempting to pull a disabled vehicle out of a ditch.
Krafcik said Walker appeared to not realize the road was blocked by the tow truck or was going too fast to stop.
"I'm doing the 'Whoa, whoa, whoa,' and he put it in the ditch," Krafcik said of Walker.
At some point, Krafcik saw Walker in the back of the car trying to get out, but he was trapped, perhaps because the doors had jammed shut.
"And I saw the rifle" in the back of the car, Krafcik said. "And then he dove over the front seat and started pulling the handgun out from underneath the front seat because I told him if he (muffled) the rifle, I would shoot him," Krafcik said.
Krafcik didn't describe the moments that followed, in which he fired the shots that killed Walker, but Holmes later advised another supervisor that Krafcik fired after Walker pointed the handgun at him.
Krafcik's police car was not equipped with a video recorder.
Holmes was the first officer to arrive to assist Krafcik, and his dash-cam shows him leaving his cruiser and jogging up to Walker's vehicle.
It then shows Holmes and a driver for Mays Towing walking a handcuffed female from Walker's car to Krafcik's cruiser.
The woman, who had been in the car with Walker, wailed "Please don't kill me" over and over as she was led away from the car.
The tow truck driver told Holmes later that he "witnessed everything," adding, "I back him up. [Krafcik] gave [Walker] every warning — at least 10 times."
After putting the female in the cruiser, Holmes went back to Walker's vehicle and saw Walker inside, slumped over in the seat with the loaded gun in his hand. Walker was wearing rubber gloves.
Holmes can be heard saying that he needs to secure the gun from Walker's hand before he can have a paramedic check to see if Walker is still alive.
"Note. I just pulled a Ruger out of the subject's hands," Holmes says, then places the gun elsewhere in Walker's car. "All right, squad. You can move up," he says to ambulance workers.
Officers stood by with weapons drawn on Walker as the ambulance worker checked. "See if you can get a pulse," Holmes said. "No pulse? I got to start making some calls," Holmes said. Walker was pronounced dead at the scene, the Trumbull County Coroner's office said.
While talking to Krafcik, Holmes mentions that two other Warren police officers had reported that they had been told Walker was "coming to shoot the bar up." He doesn't indicate what tavern.
Holmes can be heard telling his supervisor, Lt. Jeff Cole, what had gone on so far.
"I went up, didn't see any breathing, looked in. I saw a weapon in his hand," he said. "He was hunched over in the car. I removed the weapon, set it on the seat. The EMTs established no pulse. We didn't touch anything else."
Krafcik told Holmes later to have somebody check on the female that had been in the car with Walker, because he had to shoot through a closed window at Walker very near to the girl, "so she may have glass."
Ambulance workers checked on the female and found that she had only superficial scratches. The female later said the glass got "all in my pants." At about that point, she asked officers "Is he OK?" She was referring to Walker. Officers didn't answer.
Police radio transmissions released by Warren police earlier included comments by Krafcik asking for a tow truck after he had been dispatched to Risher Road near Palmyra Road for an abandoned car that had crashed and was in the right-hand ditch.
Krafcik could then be heard asking for backup officers because another car with two people inside had arrived, one with a gun. Krafcik can be heard telling the people in the car, "Put your hands up."
A short time later, Krafcik called out for an ambulance and indicated he was not hurt.
Police have refused to provide many details regarding the shooting. The Ohio Bureau of Criminal Investigation is handling the investigation of the shooting, but BCI also has refused to provide much information.
A BCI spokesperson did identify the type of rifle found in Walker's car — a HD MP5 .22-caliber long rifle, which looks like a military-grade weapon but is less than military-grade because of its lower caliber, according to a local gun dealer.
Walker, 24, of Kenwood Drive in Warren, had a long criminal record in Warren and Niles. Reports the Warren Police Department released Wednesday indicated that police have investigated numerous incidents involving threats Walker had made to people over the past year.
He was named in dozens of police reports dating back to when he was about 15 for a variety of complaints.
He was sent to prison for one year in 2009 for being a felon in possession of a firearm in connection with the death of Ahmaze D. King, 26, at an apartment on Lancer Court Northwest, where Walker was visiting a young woman.