Sciortino agrees to accept minor misdemeanor charge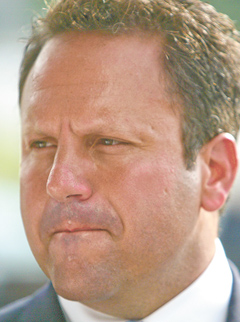 ---
Staff report
YOUNGSTOWN
Mahoning County Auditor Michael Sciortino has decided to accept a new citation for failure to control an automobile after a months-long investigation by the Ohio Attorney General's Office into his May traffic stop.
A Summit County investigation into the May 26 traffic stop requested by Mahoning County Sheriff Jerry Greene found that Sciortino "failed miserably" a field sobriety test after Sgt. James Touville, a Mahoning County deputy sheriff, pulled him over in Canfield Township on suspicion of driving under the influence.
The traffic stop was on U.S. Route 224 near Raccoon Road. Instead of an OVI charge, Sciortino was cited for a marked-lanes violation and he was driven home by T.J. Assion, a sheriff's department supervisor.
In a letter addressed to "members of the media" and dated Thursday, Sciortino explained that he plans to enter a plea to the new minor misdemeanor charge of failure to control.
"I have done this to bring the matter to a close and so that our attention can remain on the public's business," Sciortino wrote. "The fine and court costs will be mailed to the court and paid by me, just as would be the case with any other traffic citation."
Ohio Attorney General Mike DeWine's office agreed to investigate the traffic stop in July, after Mahoning County Prosecutor Paul Gains referred the case to the state office.
Police had been called to the Wendy's restaurant on Route 224 in Canfield Township at 11 p.m. May 26 because an employee of the eatery had called 911 to report a man in a black Buick had fallen asleep in a car in the parking lot.
The license-plate number given to dispatchers matched one on the car stopped by a county deputy less than an hour later, and also on the traffic citation.
According to the Summit County report, Assion told Touville to uncuff Sciortino, and Assion drove Sciortino home. Assion came to the scene after Maj. Jeffrey Allen, patrol supervisor, called him.
Those involved told investigators that Sciortino did not request special treatment.
In July, Assion was demoted to his previous rank of sergeant, while Allen and Touville were suspended without pay for 10 days and three days, respectively.
In June, Sciortino paid a fine and court costs for the original citation for failure to drive within marked lanes. He paid a $50 fine and $80 in court costs to the Mahoning County Area Court in Canfield.
Sciortino could not be reached for further comment.
Greene and David Betras, Mahoning County Democratic Party chairman, declined to comment Thursday night.