Phantoms visit Austintown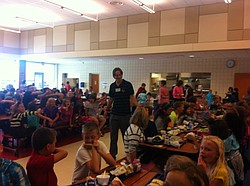 Photo
Neighbors | Submitted .Youngstown Phantom players gave Austintown students high-fives during lunch Sept. 23, 24 and 25.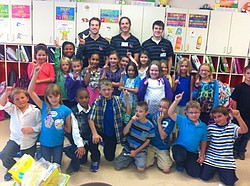 Photo
Neighbors | Submitted .The Youngstown Phantoms visited Austintown schools Sept. 23, 24 and 25 to talk about the importance of healthy eating, good sportsmanship and good grades.
By ADRIENNE CRISSMAN
The Youngstown Phantoms Hockey players made their way through Austintown, visiting the middle school, elementary school and intermediate school Sept. 23, 24 and 25.
The Phantoms family brought along special guest Sparky the Purple Dragon mascot. The players talked to the students about healthy eating, good sportsmanship and the importance of good grades. Students also got a chance to take picture with the players and get their autographs.
Jaime Schnarrs, community relations coordinator, said the assemblies were a fun time.
"We put on a little pep rally for the students," said Schnarrs. "It was so great to see the excitement in the kids."
Bart Logan, media relations coordinator for the Youngstown Phantoms, said the Phantoms want the children to be able to identify with the players.
"The children see the players on the ice and recognize them," said Logan. "We want the children to get to know them on a personal level."
Logan said the appearances aren't just for the children, but for the players, too.
"We want the players to build a relationship with the area," said Logan. "We want them to realize this isn't just a place they'll be for a year, this is their home."
Logan commended the valley for their support.
"We've been very lucky to have the support of the fans and the valley," said Logan.
For more on the Youngstown Phantoms, visit http://www.youngstownphantoms.com/.