Library presents princesses and pirates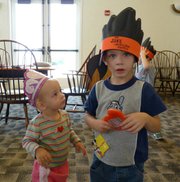 ---
By ELISE McKEOWN SKOLNICK
The Library of Youngstown and Mahoning County had a coloring contest Oct. 2 at the Austintown branch.
Children colored a treasure map and enter for the chance to win tickets to the "Disney Junior Live On Tour! Pirate and Princess Adventure" performance Oct. 26 at the Covelli Centre.
The kick-off event was a pirate and princess adventure for children.
Librarian Nikki Puhalla read several pirate-themed books, including a pop-up book called "The Lost Treasure of Skull Island," by Martin Taylor. Throughout the book, as pirates search for treasure, various animals pop out from the pages. The children were excited by the octopus and shouted, "Shark!" when Puhalla turned a page and said, "Oh, you're going to like this one."
She also read "Bubble Bath Pirates," by Jarrett J. Krosoczka.
"Can you say 'arrr' like a pirate?" Puhalla asked the children. And they did. Treasure – in the form of ice cream - was found at the end of the book.
The children also sang pirate-themed songs, counted pirate pictures on a felt board and pretended they were pirates. They swabbed the deck and said ahoy. Then they walked the plank to tables for a craft project. They glued feathers and eyes on to construction paper parrots.
Lila Hale said the craft was fun. She decorated a pink parrot with pink, purple and blue feathers. Her brother, Daniel Hale, decorated an orange parrot with yellow, white and orange feathers.
At the end of the program, the children were given large lollipops in the shape of a Mickey Mouse head and princess and pirate crowns, courtesy of Disney.