Do you believe? Jennifer Albert says there's good reason to
By JAMISON COCKLIN
jcocklin@vindy.com
Ghost Hunter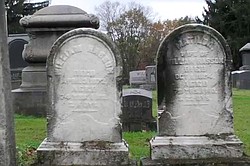 Video
Paranormal Investigator Jennifer Albert of East Palestine, OH describes her work.
It all started for Jennifer Albert about four years ago when a lamp cord would not leave her alone.
Albert, 26, an East Palestine native with a bachelor's degree in social science from Cleveland State University, was standing by herself under a lamp cord that seemed to take on a life of its own.
The cord would sway back and forth, hit the wall, lift up and point straight at her, she said.
Albert called a family member into the room to witness the phenomenon, and both thought it was a sign that a family member who had died recently was all right — wherever she had gone.
The experience wasn't the first for Albert, who said she's had similar ones every time a family member, friend or even a pet died. The feelings grew stronger as she got older, too.
Call them hauntings, call it a sixth sense on Albert's part, call it whatever you will if you don't believe in ghosts or the supernatural because, like she says, you probably never will if that's the case.
She founded the Cleveland Paranormal Research Society and there's a market for it, too.
The idea came after Albert spoke with Nick Groff and Zak Bagans at an event at the Ohio State Reformatory in Mansfield about three years ago. Groff and Bagans, along with Aaron Goodwin, hunt ghosts and conduct research at eerie locations everywhere for the Travel Channel's "Ghost Adventures," which debuted in 2008.
She told them about her experiences, and they suggested that she start her own paranormal team and conduct her own research to learn more about the supernatural.
"I had people email me, Facebook and Tweet me. I was getting phone calls. Somehow these people found me," Albert said of what it took to get her staff together. "Everybody came in a different way. I picked up three staffers from a case, others through social media and some found out by word-of-mouth."
Cleveland Paranormal has about 10 team members, with the staff split between the Youngstown and Cleveland areas. They visit businesses and private homes to investigate and research unusual happenings.
The paranormal industry has earned more public attention in recent years with the popularity of shows such as "Ghost Adventures" and the SyFy Channel's "Ghost Hunters," which debuted in 2004.
More recently, "The Conjuring" was released in theaters. The film was based on a Rhode Island family's real-life struggles with demonic spirits, and the paranormal researchers in the film were based on Ed and Lorraine Warren, who opened the New England Society for Psychic Research in 1952.
Albert said that as Halloween draws closer, she's been fielding more calls and emails from people who are interested about what she does, or are scared of something that's happening in their home.
Cleveland Paranormal will be at the Creepy Hallow Haunted Trail at East Palestine Park from 7:30 to 10 p.m. Saturday to answer questions and talk about what it does.
Another factor in the paranormal industry's growth is technology, which Cleveland Paranormal employs just like other ghost hunters.
Albert said each investigation is different depending on the size of the venue and what's being researched. The group does audio analysis, video and still-frame video, takes pictures and researches a location's history. It sometimes employs a Spirit Box SB7, which uses radio-frequency sweeps to generate white noise and provide a medium to contact paranormal entities or pick up energy signals.
"Every time we go to the Mansfield Reformatory it's a different experience," Albert said. "I was once locked in solitary confinement for 30 minutes with no explanation. There's always different activity, hot spots or things you interact with when you go."
Cleveland Paranormal has conducted several investigations at the Ohio State Reformatory in Mansfield, which was built in 1886. When the location opened, it eventually housed more than 155,000 men. Some never left the facility, and many believe it's haunted.
Other notable investigations include Prospect Place, a 29-room mansion in Dresden, Ohio, built in 1856 by abolitionist George Willison Adams. Prospect Place was once a stop on the Underground Railroad.
Albert said Cleveland Paranormal conducts about two or three investigations each month.
Albert, like others involved with Cleveland Paranormal, has a day job, but she hopes to soon open an office and grow the staff so it can do more work in Northeast Ohio and western Pennsylvania.