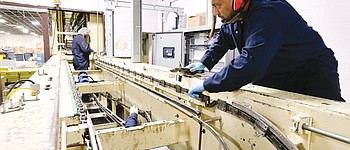 Still waiting for Sandy grants
Published: 10/24/13 @ 12:15
Associated Press
NEW YORK
A year after superstorm Sandy sent more than 6 feet of ocean water into their ice cream store and destroyed everything inside, Brian and Michelle McMullin are still waiting to hear if they'll get grant money from New Jersey to help pay rebuilding costs.
But 60 miles away, in New York City, a $250,000 grant from a utility helped Madelaine Chocolate start its recovery after more than 4 feet of water flooded the factory and left mud, rust and mold covering walls, floors and more than 100 pieces of equipment.
Small-business owners who applied for grants after the Oct. 29, 2012, storm are more likely to have gotten money by now from private sources such as corporations, charities and chambers of commerce rather than the government. The problem: States must, by law, follow certain steps to give grants. But a lack of planning and negative attitudes about businesses also stand in the way of getting money quickly to companies that need it, according to people who study disaster recovery.
There's no reliable total of how much grant money was available or given out after Sandy. Money comes from a variety of sources, and states are still making grants almost a year later. But it's clear that there are haves and have-nots among small companies who suffered heavy losses.
The McMullins applied for grant money from New Jersey eight months ago to help pay for the heavy damage to their ice cream store, Gracie and The Dudes, in Sea Bright, N.J. The store took on 61/2 feet of salt water that ruined the walls, heating and air conditioning system, plumbing and electrical system. Brian McMullin estimates the damage at over $680,000. His insurance company paid just $223,000, citing depreciation in the building's value.
McMullin describes the ongoing application process as long and frustrating, with continual requests from the state for detailed information about the value of each piece of equipment he lost, how long he's been in business and more. Caseworkers frequently change and each requests different information.
The McMullins rebuilt but couldn't reopen until two weeks after Labor Day, missing the summer, when they make 85 percent of their annual revenue. They raised money for the repairs by selling one of their two other stores and cashing in savings and their four children's college funds.
Officials of New Jersey's Economic Development Authority, which administers the grants, were not available to be interviewed despite repeated requests by The Associated Press.
Don't Miss a Story
Sign up for our newsletter to receive daily news directly in your inbox.