Dellick accused in 2 other road-rage incidents; special prosecutor considered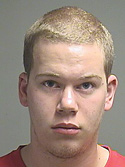 ---
By Kalea Hall
YOUNGSTOWN
A special prosecutor may be sought for the aggravated -assault case against John Dellick, son of juvenile court Judge Theresa Dellick.
John Dellick, 19, is charged with the fourth-degree felony after a Friday night road-rage incident in Canfield Township involving Angelo Gomez, 58, of Boardman and his wife.
John Dellick also was involved in two previous road-rage episodes, Boardman and Austintown police reports show, but never faced charges.
"It seems like he doesn't learn from his mistakes," Gomez said. "You can't keep going through life [making mistakes], especially when your parents are public figures."
Mahoning County Prosecutor Paul Gains said if the attorney general's office is willing, he'll then ask the county common pleas court to designate an assistant attorney general to prosecute the John Dellick case.
"We don't want the public to perceive that John Dellick is being treated more favor- ably or more harshly because his mother is a judge," Gains said Wednesday. "We try to avoid the appearance of impropriety."
The latest case is the third time in 16 months that John Dellick was involved in an apparent road-rage case that led to police involvement.
Gomez was stopped at a light Friday night on U.S. Route 224 and Lockwood Boulevard when he saw a young man throw a bottle out the window of his silver Jeep. Gomez yelled at the man, identified as Dellick, for littering. Gomez said Dellick then made an obscene hand gesture and repeatedly hit the brakes in an effort to get Gomez to hit the Jeep. Gomez passed Dellick, and then Dellick's vehicle struck the back of Gomez's car, the Mahoning County Sheriff's Office report says.
"He shoved me off of the road and put [my car] out of control," Gomez said.
When both cars came to a stop and Gomez and Dellick got out of their cars, Dellick began yelling racial slurs at Gomez and his wife, the report says. Gomez contends Dellick specifically questioned the couple's citizenship.
"He has no idea who I am," Gomez said. "I am a U.S. citizen."
Gomez told police Dellick also told him his mother was a judge.
"I didn't know the kid from Adam and he came out in a rage saying his mother is a judge," he added.
Gomez is from Mexico, but has lived in the U.S. for 40 years. His wife is from Peru, and she also is a U.S. citizen. Gomez has operated a local tree-service company for 27 years.
After her son's arrest, Judge Dellick issued a statement supporting her son's innocence and questioned the claim of him using racial obscenities since he has Hispanic heritage.
"I just want to make my statement and I am right in what I say, although Mrs. Dellick believes her son was wrongfully accused," Gomez said. "I don't think so."
On June 11, 2012, there was an incident involving 22-year-old Paul Jones of Youngstown. Jones said he was stabbed twice in the back by John Dellick during a fight at the Sun Merchant gas station in Austintown. Jones told police he was driving down Mahoning Avenue when a silver Jeep attempted to cut him off, according to a police report.
Jones then pulled into Sun Merchant and met with the other driver. The argument between them became physical, and the two wrestled on the ground until a store clerk broke up the fight. Jones' girlfriend attempted to break them up, but she was pushed to the ground by Dellick, according to the Austintown police report. After the fight ended, Jones realized he had two puncture wounds to his back. Jones said one wound almost hit his lungs and the other cut through muscle and tissue.
Dellick also was injured. Police took photos of a cut to his hand, a black eye and a scratch on his face. Dellick refused to complete a statement, answer questions or identify Jones or his girlfriend.
"I definitely want justice," Jones said Wednesday.
Dellick was never charged in this case because the prosecutor believed there were too many conflicting stories, said Austintown Police Chief Robert Gavalier.
In January of this year, a Poland man told Boardman police that John Dellick pulled out in front of him, swerved in between lanes and attempted to cut him off. While stopped at a red light on Route 224 and South Avenue, Dellick got out of the Jeep and told the man to get out of the car, according to a police report. Dellick then kicked the mirror off of the driver's car. The driver followed Dellick to get his license-plate number. Dellick then rammed into the driver's car, according to the report. The driver did not want to pursue criminal charges against Dellick.
Dellick's attorney, Samuel Amendolara, would not comment on the Austintown or Boardman incidents involving his client.
For the Canfield Township case, Gains said he'll soon decide whether he wants a special prosecutor to handle the aggravated-assault charge against the judge's son to avoid any appearance of impropriety. Gains said he's considering asking the Ohio Attorney General's Office if it would be willing to assign an assistant attorney general as a special prosecutor.
Assistant county prosecutors on Gains' staff regularly prosecute in the Canfield court, where Judge Scott Hunter presides and where John Dellick is charged, as well as in Judge Dellick's juvenile court.
Gains said there was no need for Ken Cardinal, assistant county prosecutor, or Judge Hunter to remove themselves from Tuesday's initial court appearance for John Dellick because there was no disposition of the alleged road-rage case at that time.
A preliminary hearing is scheduled for 11 a.m. Nov. 22 in the Canfield court to decide whether there's sufficient evidence to send Dellick's fourth-degree felony case to the Mahoning County grand jury for possible indictment.
"Between now and then, everybody involved will have had sufficient time to assess this case and determine the need for a visiting judge or a special prosecutor," Gains said.
Judge Hunter, who is still presiding over the case, did not respond to requests for comment on whether he'll remove himself and ask for a visiting judge to hear it.