Published: Wed, October 23, 2013 @ 3:32 p.m.
VTR - DeMaine Kitchen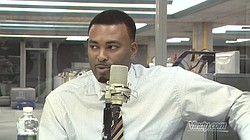 Video Set
Vindy Talk Radio for October 24, 2013

Podcast Episode
Youngstown mayoral candidate DeMaine Kitchen discusses his campaign with Louie b. Free, Todd Franko, and David Skolnick.
Vindy Talk Radio will be live at 8 a.m. Oct. 24 with Louie Free.
In the 8 a.m. hour, PETA's Ashley Byrne will join Louie to discuss the 9 p.m. Oct. 24 CNN premiere of "Blackfish," a documentary exploring the plight of captive killer whales.
Come 9 a.m., Linda Faillace, author of "Mad Sheep: The True Story Behind the USDA's War on a Family Farm," will chat with Louie.
National Geographic Channel will air a two hour movie event "American Blackout" at 8 p.m. Oct. 27. The film imagines a national power failure in the United States. Robert Bristow, the medical director of emergency management at New York Presbyterian Hospital, will talk emergency preparedness with Louie, also in the 9 a.m. hour.
At 10 a.m. Vindicator editor Todd Franko will co-host with Louie in studio as they welcome The Purple Cat's Jimmy Sutman. The organization provides job skills and education to the mentally and physically impaired.
Todd and Louie will take time at 10:30 to discuss Franko's article urging county officials to find an outside judge for a case against Judge Theresa Dellick's son, John.
Finally, at 11 a.m., Todd and Louie will welcome Youngstown mayoral candidate DeMaine Kitchen to discuss his campaign.
Go to vindy.com/radio to listen to the show live, or vindy.com/mobile/vindy-radio to listen from your smartphone.
Click here to listen to the show.
Vindy Talk Radio Studio: 330-333-4454