Valley natives launch cigar line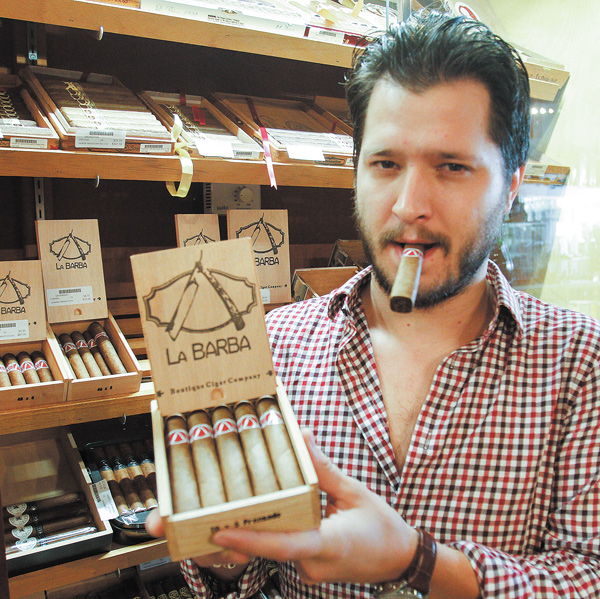 ---
By JAMISON COCKLIN | jcocklin@vindy.com
Youngstown
Two Mahoning Valley natives have launched an
unlikely line of products that went on sale here about two weeks ago.
Tony Bellatto, 29, of Canfield, and his close friend Craig Rossi, 30, who grew up in Warren and now lives in Cleveland, have founded La Barba cigars.
Rossi and Bellatto hatched the idea in 2009.
Four years later, after finding the perfect ingredients from South America, carefully blending the cigars and spending their own money to do so, the work has paid off with reviews from about 20 websites and word-of-mouth spreading about the legitimacy of the cigars, the partners say.

"They're medium-plus body cigars with a lot of spice, a lot of white pepper," Bellatto said. "They finish very sweet, like graham crackers and toasted marshmallows. We call it a smooth finish because you want another one the minute you're done."
Bellatto grew up in the cigar business, which his father has worked in for nearly 40 years.
His father owns the Havana House Cigar Shop in Boardman, and Bellatto owns a Havana House in Niles and another in Bath Township where the La Barba cigars are being sold.
Rossi, a graduate of Warren's JFK High School, first met Bellatto at Havana House and bonded over a passion for cigars and spirits.

Rossi is now an industrial engineer, but during his years at the University of Dayton, he developed an interest for cigars, with their varying flavors and styles.

The two molded their passion into a business pursuit and in 2010 reached out to Christian Eiroa, a longtime friend of Bellatto's father who owns the Wynwood cigar factory in Miami.
"It's definitely been challenging. One of the most interesting parts about it is getting to know people in the industry — so few people actually [make cigars]," Rossi said. "It's about relationships and meeting people in the industry. It's been a bit easier with Tony's family involved because that's really helped us get our foot in the door."
But Eiroa had something more: a nonhybrid Cuban tobacco seed, considered extremely rare. Most seeds have been hybridized to prevent mold from growing on the tobacco, Bellatto said. The nonhybrid, which resists mold on its own, was a precursor to the perfect blend Bellatto said the partners have achieved.
"It's a medium to bold, actually a good medium-leaning bold, not overpowering," said Rob Tullio, a machinist from Boardman who was among the first customers to try the product. "It has a lot less pepper than a bold cigar and a very smooth taste, a good burn with clean ash and a good wrap with practically no seams."
Bellatto said finding the right ingredients and blending them to get the kind of cigar that the partners wanted was the most difficult part of the endeavor.
Rossi and Bellatto traveled to Wynwood to blend La Barba. Once they'd found the right fillers from places such as Peru and Nicaragua, the two traveled to Honduras to finalize the manufacturing and packaging for the cigars.
Both men sport a beard, and La Barba is Spanish for "the beard."
They ordered just 100 boxes, which Bellatto said was "very limited and boutique" in nature as he explained the modesty of the order.
The cigars will retail from $8 to $10 and the partners say they already have identified markets in Arizona, Michigan and Florida where they plan to sell the line. Eventually, they hope to sell them across the country.
"We want to sell them anywhere we can, but we're sticking to brick-and-mortar stores," Rossi said. "Part of the fun of being in the cigar industry is the people who enjoy cigars. You can walk into almost any cigar shop and feel like you're a part of the group after talking for a few minutes."

Bellatto and Rossi have rolled out the cigars, available in five sizes, with an aggressive social-media campaign and a website at www.labarbacigars.com, which attracted some of the brand's early attention.
"We just want to continue to sell them at cigar stores across the country," Bellatto said. "That's been our goal from the beginning. We love cigars, and we want to have fun with them."
More like this from vindy.com