---
Wednesday, October 23, 2013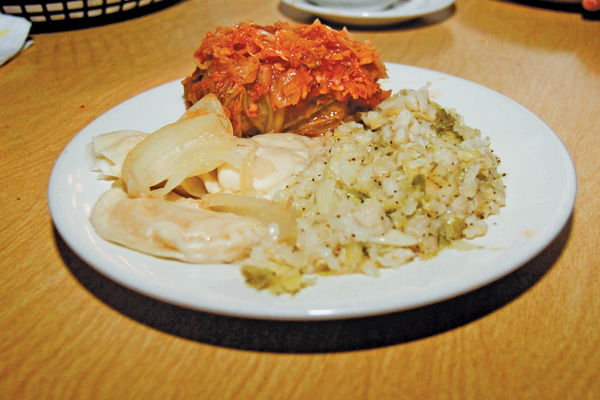 Photo
Rip's offers a heaping helping of this Eastern European comfort food.
If You Go...
What: Rip's Café
Address: 614 Youngstown-Poland Road Struthers, Ohio
Phone: 330-755-0057
Hours: Kitchen open 11 a.m. to 11 p.m. Monday through Saturday
By Mark Smesko & Michael Valls
STRUTHERS
Pop Quiz. The term hunky refers to: (a) Mark's physique, (b) a term of endearment for those of Slovak descent, (c) the makings of a delicious platter of food, or (d) all of the above.
Unless you're nearsighted or Mark's mom, you know that (a) is out. However, the correct answer can be found at Rip's Caf , a place that opened in Struthers 80 years ago. Like many of the local places we've visited, the restaurant is family-owned and operated, currently by Marilyn and Don Watt. And the menu is replete with family history.
Rip's started in 1933 when George Repasky, Marilyn's grandfather, opened a tavern on Bridge Street primarily serving the workers from the local steel mills. Rip's moved to its current location on Youngstown-Poland Road back in 1958. Marilyn, one of the friendliest human beings on the planet, was kind enough to share the story behind some of their dishes.
We started our meal off with two of Rip's favorite sandwiches, the Pork Bar-B-Q and the roast beef with horseradish sauce. The recipe for the pork dish has been in the family for years and is the only one that Marilyn won't readily share.
The recipe was purchased by her uncle on his travels down South and has been passed down on the promise that the exact recipe won't be divulged. Marilyn did reveal that the sandwich starts with a pork loin that is slow cooked for almost four hours, then shredded, removed of all the fat and finished with the addition of barbecue sauce. Rip's had a version of pulled pork before pulled pork was fashionable.
The roast beef sandwich is made from bottom round, which like the pork sandwich, starts off by slow cooking and is finished with the addition of a nicely balanced horseradish sauce. Both sandwiches are served on a soft roll and are tender and delicious. We sampled these sandwiches with sides of homemade coleslaw, macaroni salad and pickled eggs.
The coleslaw was fresh, slightly sweet and not overdressed. The macaroni salad was creamy with tender pasta and crisp veggies. The pickled egg was a perfect fit for an establishment that goes back 80 years. Simple comfort food.
With these dishes under our belt, we moved on to the Signature Dish, The Hunky Platter. This consists of one very large stuffed cabbage, a nice portion of halusky (cabbage and noodles), and three pirohy with butter and onions.
Although both of us are decent home cooks, our own versions of stuffed cabbage admittedly lack the soft texture of Marilyn's dish. Marilyn takes fresh ground beef, mixes it with cooked long grain rice, dill, Lipton onion soup mix, garlic powder, a touch of Cajun seasoning, and salt and pepper.
This filling is rolled into blanched leaves of savoy cabbage. These rolls are then topped with a tomato sauce, sauerkraut, a sprinkling of brown sugar and chopped bacon. The stuffed cabbage rolls are cooked initially on high heat for an hour, then moved to a lower temp of 250 degrees and roasted for an additional 21/2 hours. The result is a savory dish that is fork tender.
The halusky portion of the Hunky Platter is made with homemade dumplings, similar to spaetzle, combined with diced cabbage, celery salt and all saut ed in butter. A simple recipe with complex flavors that results in a very satisfying dish.
The pirohys are made by stuffing homemade pasta dough with a mixture of mashed potatoes and Colby cheese. These filled purses of dough are then boiled until tender and mixed with butter and saut ed onions, resulting in a familiar dish we've eaten many times but rarely as good as this. All of these items are made fresh by Marilyn and are part and parcel of the Repasky family recipe file.
The Hunky Platter was a bit of a nostalgic dish for us. Partly due to the recipe's ties to Marilyn's family, to a certain degree because of the childhood memories of these dishes in our own homes and certainly in part because of the realization that places like Rip's are at risk of fading away in the neighborhoods of our town. So the next time you are heading out for a bite to eat, consider grabbing your grandma's babushka and heading over to Rip's Caf to enjoy the taste and memories that come with the Hunky Platter.