---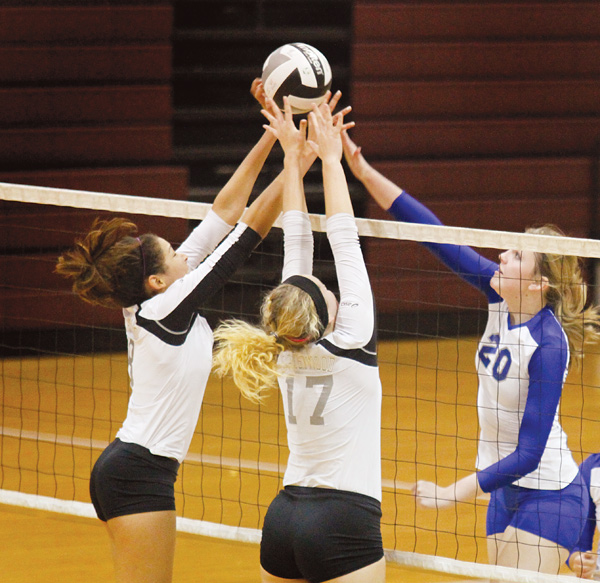 Photo
Hubbard's Kaylyn Garrett (20) attempts a spike as Crestwood's Taylor Atkins (8) and Morgan Strenk (17) block it during a Division II district semifinal at Boardman High School. Crestwood won in three games, 25-23, 25-14 and 25-19.
By TIM CLEVELAND
BOARDMAN
The Hubbard volleyball team threw everything it had against Crestwood on Tuesday night during its Division II district semifinal at Boardman High School.
The Eagles nearly pulled out Game 1, but Crestwood earned a three-game victory, 25-23, 25-14, 25-19.
Hubbard coach Jeremy Porter was asked what adjustments he made after the Eagles dropped the first two games.
"We just had to move the ball around a little bit quicker to get around them," he said. "They're a very big team. We had to try get around their blocks as much as possible. We tried to make some adjustments to move some people in some areas where they would have a clearer shot."
In some situations, winning the first two games can lead to complacency for a team. Crestwood coach Brittany Mayle said her squad has been able to avoid that pitfall.
"That worries some coaches, but we actually play through that OK," she said. "I usually trust them on the floor."
After the Red Devils took a 19-13 lead in Game 1, Hubbard (17-8) rallied back as KayLyn Garrett had blocks on three consecutive points to make it 19-17. Macey Sarisky then had two kills and Kelly Matanin added another to bring the Eagles to within 24-23, but Alivia Sandberg narrowly hit a ball out on the next point.
Morgan Strenk was the star of Game 2 for Crestwood (21-3). She had three kills to give her team a 19-9 lead, then she served an ace that Hubbard players watched drop in. That gave Crestwood a 22-10 advantage.
"I felt like we were aggressive; that's when we kept them on their toes," Strenk said. "When you're aggressive, that's when we really wanted it and really pushed them."
"Morgan is an exceptional player because she can hit and block and pass amazingly," Mayle said. "Usually you don't get that in a player her size. This is the best game she's had all year and I think it's because I told her I'd give her cookies before the game (laughs). No, she lives, breathes, eats, sleeps volleyball and tonight's just a testament to her hard work."
Hayley Zigman was a force in the middle for the Red Devils. She had 10 kills and 11 blocks, with a key kill in the third game giving her team a 19-16 lead as Hubbard was attempting a comeback.
Zigman, just 5-foot-7, more than held her own against Hubbard's 6-2 Garrett.
"She's a really good player," Zigman said of Garrett. "I tried my best to get touches on her. I feel like I did good, she did good. It was pretty even."
Mayle said Zigman's height disadvantage was something she almost always overcomes.
"Hayley is our middle," Mayle said. "She's been matched against girls bigger than her all year, and most of the time she's won. That's because of her athletic ability and just sheer heart. It's just a will to want the ball."
Crestwood will play Salem Thursday at 6:30 p.m. for the district title. Mayle said the matchup should be a good one.
"We watched them tonight; they're a great team," Mayle said of the Quakers. "I think we're pretty evenly matched. It's going to be a heck of a district championship. They're similar to Kent Roosevelt, who's in our league, and we're going to work hard tomorrow to beat them Thursday."