Ursuline finally happy to be 'away'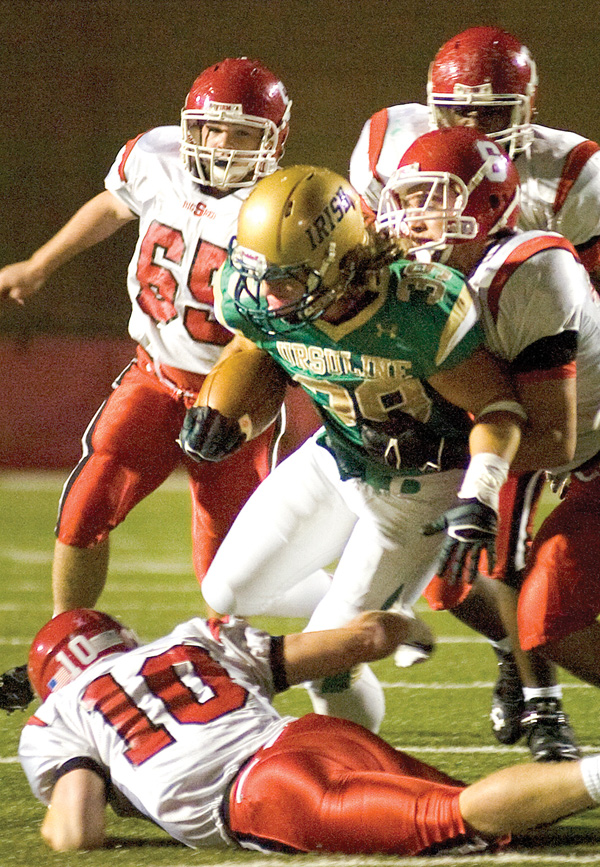 Photo
Ursuline wide receiver Vito Penza fights to avoid the tackle Friday night against a pack of Steubenville defenders at Stambaugh Stadium in Youngstown. After logging more than 1,000 miles on its first four road trips, the Irish are happy to be "away" for Friday's game against Cardinal Mooney.
By Steve Ruman
YOUNGSTOWN
The Ursuline High football team will find itself in an unfamiliar situation Friday when it plays its final "away" game of the season. The Irish will walk to their contest, which will be played against Cardinal Mooney at Youngstown's Stambaugh Stadium.
The five-block trip on foot is a far cry from what the Irish experienced in their first four road games, where they logged 1,030 round-trip miles.
Ursuline has made trips to Mentor, Massillon, Rochester, N.Y. and Erie, Pa.
"As a coach, you feel for the players because the travel can be tough, and you hate to disrupt any routine," said Ursuline coach Larry Kempe. "It was especially a concern with us, because such a large part of our roster consists of freshmen and sophomores who never experienced this sort of travel. But they've handled it well."
"This is just what we have to deal with when we can't get anyone within a 100-mile radius to play us."
Kempe noted that since he has been a part of the Ursuline program, his teams have made trips to Bethlehem, Pa., the Bronx, Wheeling, W.Va. and Toledo.
"It's just a shame they don't offer frequent rider miles," Kempe said.
DEVILISH OFFENSE
With less than two minutes remaining in the first quarter of Friday's Western Reserve-Sebring game, the Blue Devils found themselves in front of the Trojans by a slim 7-6 margin.
Then, in the blink of an eye, the Devils were well on their way to lifting their record to 8-0.
Western Reserve scored three touchdowns in a 29-second span to build a 28-6 lead at the end of the first quarter. The Devils then kept scoring until they set a single-game school scoring record in a 71-6 triumph.
Western Reserve broke its old mark of 69 points, scored in the first game of the 2009 season.
"That was a crazy end to the first quarter," said Devils coach Andy Hake. "In the moment, you're not realizing just how quick those points are being scored. It's only after the game that you can step back and realize what happened."
Western Reserve is sitting atop the Division VII, region 23 computer rankings. It has already clinched a playoff spot and a first-round home game.
Hake credits the Devils' early-season non-conference schedule for its late-season success. The Devils opened with Cuyahoga Heights (5-3), Malvern (6-2) and Harrison Central (3-5) before starting league play.
"Honestly, if you would have told me that we'd come out of those games 1-2 or 2-1, I would have taken it," Hake said. "Playing those games early really prepared us for what is always a very strong league schedule."
Western Reserve closes the season with games against Mineral Ridge (4-4) and Wellsville (7-1).
"I just hope we saved some of our points, because we're going to need them coming up against two very quality opponents," Hake said.
CONFERENCE CALL
With its win over previously-unbeaten Poland, Hubbard (8-0, 4-0) secured at least a share of the All-American Conference American Division championship. The Eagles can win the title outright with a Week 10 win over Canfield. Poland (7-1, 4-1), which has concluded league play, would share the title should the Eagles lose to the Cardinals.
Liberty (6-2, 5-0) and Lakeview (5-3, 5-0) have distanced themselves from the rest of the AAC National Division pack. The Leopards and Bulldogs will meet Friday in Cortland to determine which team claims at least a share of a league title.
South Range (8-0, 5-0) owns sole possession of first place in Tier One of the Inter Tri-County League. Springfield (6-2, 4-1) and Crestview (7-1, 4-1) are both a game behind, and South Range hosts Springfield on Friday. The Raiders close out their season at home against Lisbon.
Western Reserve (8-0, 5-0) has won 16 straight regular season games and 20 consecutive games against ITCL Tier Two foes. The Blue Devils can claim at least a share of another league title Friday at Mineral Ridge. The Devils then close their season at home against Wellsville (7-1, 4-1), which is just one game off the pace.
Grand Valley (3-5, 3-0) is one game up on Southington (5-3, 2-1) in the Northeastern Athletic Conference. Louisville (8-0, 3-0) travels to Alliance (6-2, 4-1) on Friday in a key Northeastern Buckeye Conference game. Canton McKinley (8-0, 5-0) can secure the Federal League title with a win over Boardman.