Fast start propels Canfield past Salem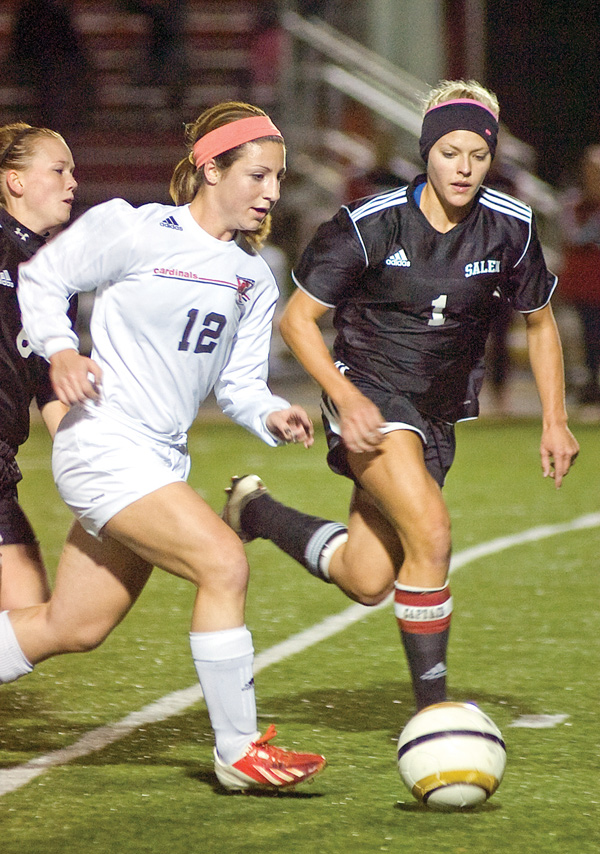 ---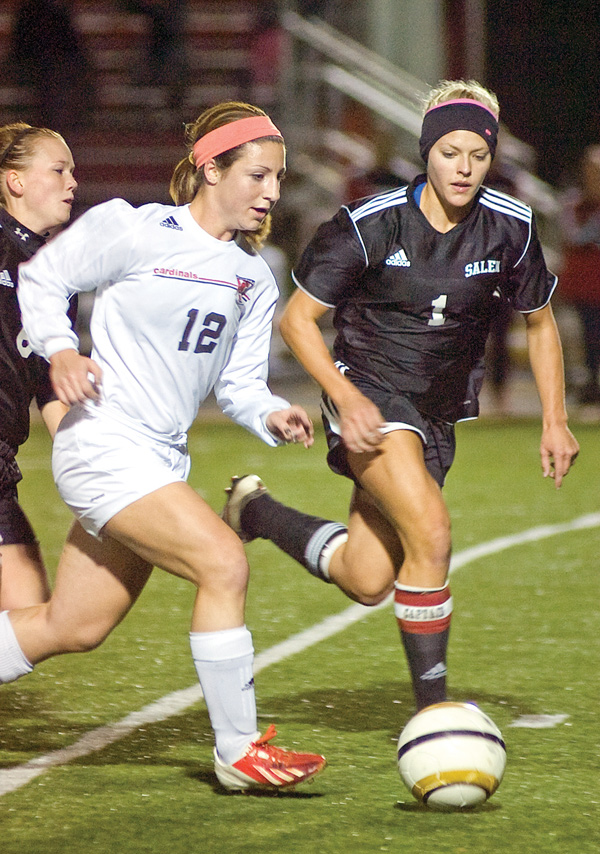 Photo
Canfield's Sophia Mancini fights to stay in control of the ball Monday against Salem defender Marissa Swindell during the girls district soccer semi-final at Bob Dove Field in Canfield.
By TIM CLEVELAND
CANFIELD
After an eight-goal defeat to Canfield on Oct. 9, the Salem High girls soccer team was hoping it had detected some weaknesses in the Cardinals it could exploit Monday in a Division II district semifinal.
Any ideas the Quakers had in that direction were destroyed as Canfield scored twice in the first 10 minutes and cruised to a 6-0 victory.
"We tried not to take too much from the first time we played them because we hoped we would see them again in the tournament," Salem coach Travis Zeigler said. "I know Phil is a good coach and he'd probably mix things up a little bit. We knew we had to stop them from scoring; 8-0 the first time and they put six in the back of the net this time. They're a good team."
Both Cardinals (13-2-3) coach Phil Simone and Zeigler said the early outburst demoralized the Quakers and took them out of the game.
"Every game we talk about jumping on an opponent," Simone said. "I do believe those two goals deflated them a little bit."
"It deflated the girls immediately; I could see it in their faces, their attitudes, their play," Zeigler said. "When it could possibly be your last game of the season and you're down 2-0 in the first 10 minutes ..."
Sophia Mancini scored the game's first goal at 33:28 as she took a pass from Elena Billy, beat Salem (12-6-0) goalkeeper Makenzie Schwartz to the ball, and rolled it into the goal.
Mancini struck again at 30:22 as Paige Bidinotto connected with her and Mancini beat Schwartz on a low shot.
"We were really excited to play today," Mancini said. "We knew they were going to come out a little harder than last time. They did, but we still stepped it up and got ahead."
Billy made it 3-0 when she put a low shot off the upright and into the net with 23:48 left in the half. She finished with two goals and an assist, as she scored with 25:47 remaining in the game as she sent a high, looping shot that went into the goal over a leaping Schwartz.
Salem's leading offensive weapon is junior Marissa Swindell, who scored 42 goals on the season. She didn't come close Monday against Canfield's defense. Every time she got the ball, she ran into a wall of white jerseys.
"We played a 4-5-1; we had her up top by herself," Zeigler said. "We knew our opportunities were going to be her by herself. We were hoping to get her wide and maybe break one through and it just didn't happen."
Canfield advances to the district championship game Thursday at 7 p.m. at Bob Dove Field against Lakeview, a winner Monday night against Niles.