Lakeview ousts Mooney in 2OT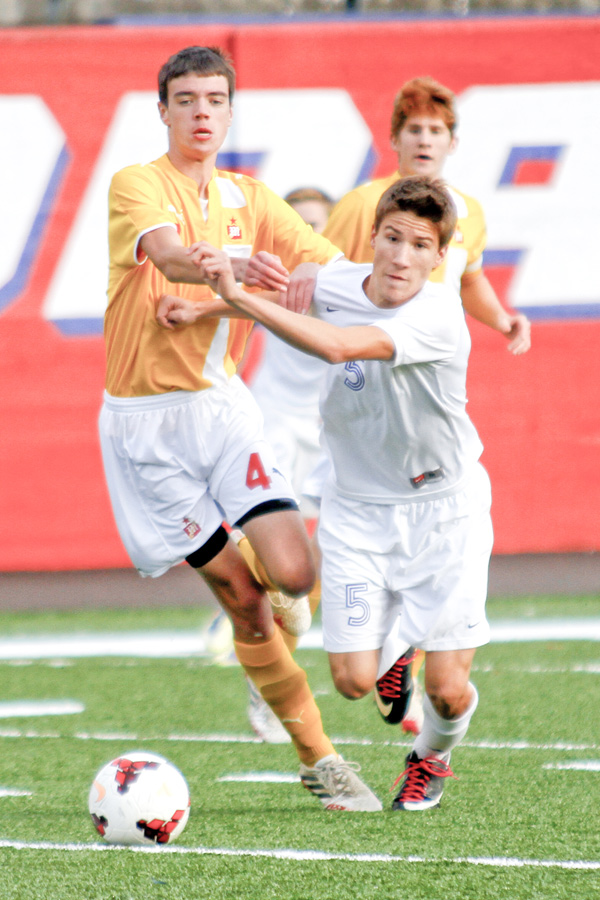 ---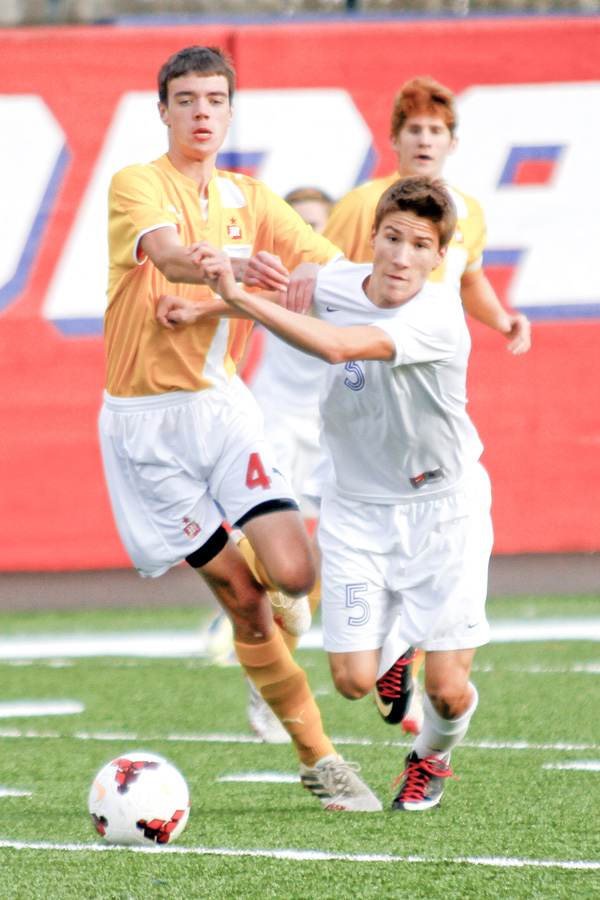 Photo
Mooney's Jack Brennan (4) and Lakeview's Austin Olbrych (5) fight for the ball during their game at Bo Rein Stadium in Niles on Monday.
By Ryan Buck
Niles
Meet the new boss. Same as the old boss.
For the third consecutive year, the Lakeview High boys soccer team ended its newfound rival's season in the district tournament. Austin Olbrych's goal 36 seconds into the second overtime period gave the Bulldogs a 2-1 victory over Cardinal Mooney in the sectional final at Bo Rein Stadium.
When the Division II seeds were announced before postseason play began, the Cardinals wanted to meet top-seeded Lakeview as early as possible.
"That game shouldn't be a sectional final game," said Lakeview coach Nate Mailich, whose team bested Mooney in the last two Division II district finals, ending a streak of 10 consecutive Mooney titles. "That's two of the best teams in northeast Ohio going at it and battling to the end. We just happened to get lucky and come out on top."
Early in the second 15-minute overtime period, the Bulldogs earned a throw-in about 35 yards away to the left of the Mooney goal. Lakeview sweeper Evan Olbrych raced in from his defensive spot to take it.
The throw landed into a crowd in front of the Cardinals' goal mouth, and trickled to the foot of Evan's brother, Austin.
"My brother has always thrown pretty far," Austin said. "I didn't have much luck [in earlier chances], but I ran in, jumped, got a flick; Anthony Sember kicks the ball at me. Next thing I know, it's in front of me and I toe-poke it and it goes right past the goalie's head and in."
More than 95 minutes ended in a mob of celebration.
"It's who wants it more, really," Austin said. "That's what it comes down to."
The Bulldogs worked their way back from a 1-0 first half deficit.
At the 22 minute mark of the first half, Mooney forward Kealin Dunston found forward Myles Harris for a wide open shot inside the Lakeview 18-yard box. Harris' across-the-body, right-footed drive dipped past a diving Jackson Gagne for a 1-0 Mooney lead.
"The first eight minutes of the game, they were really controlling us and I wasn't expecting that," said Mooney coach Lou Cali. "Once we got our attack going, we started taking control."
Lakeview midfielder Matt Pasternak repeatedly willed his team forward, but Mooney's defense collapsed on him and denied shots.
At the 32-minute mark of the second half, Gagne stopped a hard shot from Dunston. At the 25:24 mark, Gagne punched Jake Payne's shot high into the air, then recovered and out-jumped him for the rebound.
"Their goalkeeper — I've seen [Lakeview] and scouted them three times — he had the game of his life," Cali said. "I want to credit that young man. There were three or four times where he made unbelievable saves, which would have put us up 2-0 or more and he just had a phenomenal game."
The Bulldogs finally broke through with 20 minutes left in regulation.
Two Mooney defenders converged on who looked to be a harmless loose ball 18 yards from goal before Mooney goalkeeper Jeremy Billett called them off. Lakeview forward Colton Ainsley rushed forward, poked the ball past the crowd and tied it.
Ainsley nearly won the game in regulation, but Billett denied him with a sprawling save with 15 seconds left. The Bulldogs carried the energy into overtime.
And for another season, the 'Dogs had their day.
"We all really didn't want it to end here," Austin Olbrych said. "We're going for three. We knew they came straight for us and wanted to get it over with."