South Side neighborhood harvests fun, unity
---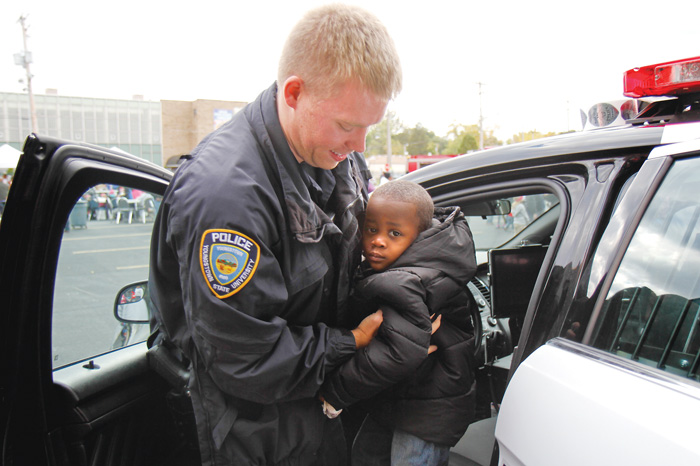 Photo
Youngstown State University police officer Mark Menley helps 2- year-old Da'Reion Solomon of Youngstown get out of a police cruiser at the Neighborhood Harvest. The festival was sponsored by ICU Block Watch, St. Dominic Church and Horizon Academy and featured music, treat bags with candy, Kids Identi-Kits and an inflatable bounce house.
By Sean Barron
YOUNGSTOWN
If a South Side gathering's offerings could be converted to a menu, it would feature a list including 43,000 pieces of candy in 968 bags, 816 cupcakes and hundreds of hot dogs — as well as one good time for all.
"It was fun," a shy 8-year-old Adrianna Campbell of Ashtabula said after spending a few minutes sounding a siren and getting acquainted with the inside of an Austintown police cruiser.
Adrianna was among several youngsters who sat in the driver's seat of the cruiser, which was one of many attractions at Sunday's third annual Neighborhood Harvest in a parking lot at Cottage Grove and Auburndale avenues on the South Side.
The two-hour festival adjacent to St. Dominic Church was an opportunity to bring people together and celebrate what their neighborhoods have to offer, noted Victoria Allen, president of the ICU Block Watch group, which includes a portion of Auburndale.
Adrianna said she also enjoyed seeing the cruiser's computer and turning on the vehicle's lights. Accompanying the youngster was her father, Cory Thornton of Youngstown, a restorative-care aide with Park Vista Retirement Community of Youngstown.
Thornton said he appreciated the festival for providing children with a safe, friendly environment and providing plenty for them to experience.
Doing his best to reach out to youngsters and adults was Jeff Toth, a 25-year Austintown police officer.
"Hi girls, you look beautiful today," Toth told a few children before handing them stickers reminding them to maintain a positive attitude and make good choices.
Toth, who's also an instructor with Austintown's drug education DARE program, observed that crime affects all parts of the city, saying that Sunday's fest symbolized the importance of people working together to solve challenges and find solutions.
"We realize we all have similar problems, and we have to work together," said Toth, adding that the festival also gave children and adults a chance to meet and view police officers in positive ways.
In addition, officers from the Youngstown, Boardman and Youngstown State University police departments were on hand.
A few rather long lines formed to receive treats such as orange-frosted cupcakes, hot dogs, drinks and cotton candy while many adults appeared content to sit at tables to converse with one another. Other youngsters were intrigued with the inside of a SWAT crisis-response vehicle.
"This usually is the most popular vehicle," said John Elberty, the Mahoning Valley Crisis Response Team's commander.
Elberty said that many youngsters asked if the vehicle is bulletproof, and others inquired about its round gun ports.
Some children climbed aboard a Youngstown fire- truck and did their best to make sense of the numerous switches, buttons and panels while others were satisfied simply to burn off energy in a large inflatable bounce house.
Also on hand was Marguerite Felice, a Youngstown Community Bill of Rights volunteer who distributed information regarding what the group sees as the dangers of hydraulic fracturing.
Enhancing the festival's Halloween flavor were several Michael Jackson songs, including "Off the Wall."