Urban farm sets Nov. 2 open house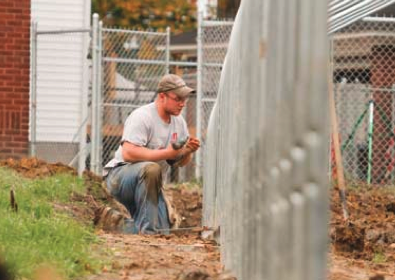 ---
YOUNGSTOWN
The Youngstown Neighborhood Development Corp. will showcase an investment of nearly $600,000 in its new headquarters and training kitchen and improvements to its Iron Roots Urban Farm during an open house from 1 to 4 p.m. Nov. 2.
"What we're building here is a neighborhood revitalization campus," Presley Gillespie, agency executive director, said of the improvements made during the past year on the site at 820 Canfield Road.
"We want to have a place where we can create jobs around urban agriculture" and food-based businesses, and teach young people urban farming and work and life skills, he said of the 1.7-acre site.
YNDC trains and encourages city residents to start new food-based businesses, including market gardens, on vacant land.
"We also want to create opportunities for people to improve their quality of life through healthier living and healthier eating," Gillespie said.
Major agency goals are "to continue to engage residents in the revitalization of our city, teaching and empowering residents, building the capacity of residents to really take back our city, re-imagine our city, and reinvent our city," he said.
Visitors will be able to tour the renovated, 91-year-old, four-bedroom, 2,700-square-foot brick house, to which YNDC moved its headquarters at the end of May. In its previous downtown offices, YNDC had paid about $28,000 in annual rent for about 3,000 square feet.
The move enabled more money to go for agency programs, and it put the headquarters in a highly visible location at the core of the agency's farming operation and its efforts to improve the surrounding Idora Neighborhood, Gillespie said.
The two-story headquarters building has a first-floor meeting room, which is available to community groups rent-free and by reservation.
Visitors to the South Side site also will see the four new giant solar panels installed this month at a cost of about $40,000 to make the agency's operation more energy self-sufficient.
The panels, which will supply a total of about 11.5 kilowatts of electricity, are highly visible from the heavily traveled Canfield Road, which is U.S. Route 62.
"When we are producing more than we're using on the site, our [electric] meter spins backwards," explained Liberty Merrill, YNDC senior program coordinator. The solar panels likely will supply most of the site's electrical needs, she added.
Also noticeable are two new steel-framed and plastic-sheet-covered hoop houses, which will be used for year-round agriculture on the farm. One measures 24 by 80 feet, and the other, 30 by 120 feet. Together, they cost just over $40,000.
Besides training city residents in agriculture, the farm grows crops that are sold at farmers' markets in Youngstown and Poland and through Grow Youngstown Community Supported Agriculture — a local fresh food-sharing cooperative. The farm also donates crops to the Rescue Mission.
The farm also is launching a new program this month in which people can place produce purchase orders early in a week, pick them up at the farm late that week, and use food-stamp cards, credit cards, checks or cash to pay for their orders, Merrill said.
Among the crops grown there this year are five varieties of carrots, three varieties of beets, two varieties each of turnips and lettuce, okra, spinach, and rainbow Swiss chard, said Curtis Moore, farm manager, who is nicknamed "Capt. Curtis" by the trainees.
The training kitchen, which is used to teach city residents how to cook using the fresh produce from the farm, replaced an old house that was demolished on the Billingsgate Avenue side of the farm. Trainees will perform cooking demonstrations during the open house in that structure.
YNDC purchased the property for about $40,000 in 2011 after the large brick house had been vacant for at least six years, and the entire property is debt-free. The improvements were paid for by gifts and grants and by federal funds.
Major donors were the JPMorgan Chase Foundation, which gave $75,000 toward the headquarters house renovation, and Humility of Mary Health Partners, which gave $50,000 toward the training kitchen.
The community meeting room in the headquarters building bears the name JPMorgan Chase; and the training kitchen will be named the HMHP Foundation Demonstration Kitchen.
YNDC plans to build garage-style workshop to house power tools this fall at the farm. There, community groups will be able to cut plywood and paint it before boarding up vacant properties.
It also plans to establish a farmers' market next spring on Glenwood Avenue, most likely near Sherwood Avenue, in the vicinity of a new city park that's now under construction, Merrill said.