The Clow family hosts a party for golden milestone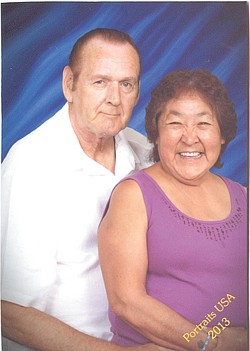 Photo
Mr. and Mrs. James R. Clow
NEW MIDDLETOWN
The family of Mr. and Mrs. James R. Clow of New Middletown hosted a 50th anniversary party Oct. 19 at VFW Post 2799 in New Springfield.
Their children are Barbara McMillan of Youngstown; Darryl S. Clow of Arctic Village, Alaska; Tracey L. Clow and Tina L. Fulford, both of Anchorage, Alaska; and James E. Clow of Fairbanks, Alaska.
They also have 10 grandchildren and 10 great-grandchildren.
The former Mae Ahkiviana married Mr. Clow in October 1963 at a Presbyterian Church in Fairbanks.
The couple both retired from Arctic Slope Regional Corp. in Anchorage. She worked as an employment recruiter, and his position was expediter.
Mrs. Clow retired in 2006, and Mr. Clow, in 2007. He is a U.S. Army veteran who served from 1961 to 1963.