Sumner-Linehan vows are set for December 28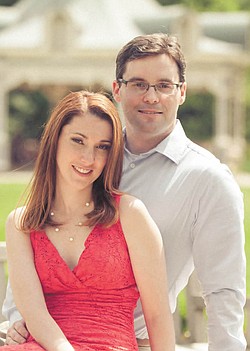 Photo
Rebecca Sumner and Matthew Linehan
Rebecca Sumner and Matthew Linehan, both of Shaker Heights, are engaged.
The bride's family is announcing the event.
Her parents are Deverah Sumner of Boardman and the late John Sumner. Parents of the groom are Peter and Carolyn Hardin-Levine of Shaker Heights and James Linehan and Susan Sedwick, both of Nichols Hills, Okla.
The couple are planning to exchange vows at 1:30 p.m. Dec. 28 at St. Charles Church in Boardman. A reception will follow at The Lake Club in Poland. Invitations will be issued for both.
The bride-elect earned a bachelor's degree in English from Mount Union College and a bachelor's degree in French from Youngstown State University. She also earned a master's degree in English from YSU. She teaches English as a second language at Cuyahoga Community College in Westlake, Ohio.
Her fiancé earned a bachelor's degree in psychology from the University of Oklahoma and a juris doctorate from Case Western Reserve University. He is an associate attorney for Kastner, Westman & Wilkins LLC in Akron.