Six run for Youngstown mayor; controversy dogs many candidates
RELATED: Candidates agree post isn't necessary in current form
Mayoral Race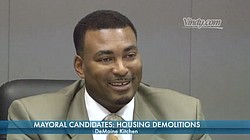 Video Set
YOUNGSTOWN
For the first time in eight years, no incumbent is running for Youngstown mayor.
Mayor Charles Sammarone opted not to run for the seat this year. He moved up from city council president to mayor in August 2011 when Jay Williams resigned for a job in the President Barack Obama administration. Sammarone is the Democratic nominee for his previous council president job.
The six mayoral candidates are:
Democrat John A. McNally IV, a former city law director and Mahoning County commissioner.
DeMaine Kitchen, the mayor's chief of staff/secretary and a former 2nd Ward councilman.
John M. Crea, a political newcomer who has spent most of the past two months in the county jail after being charged — and later convicted of — aggravated menacing and disorderly conduct, and is facing three other counts of aggravated menacing for a separate incident. Crea remains in Mahoning County jail where he's been since he was arrested on a probation violation and the three counts of aggravated menacing Oct. 2. His attorney filed a not guilty by reason of insanity plea on his behalf last week.
Frank Bellamy, who received 21 percent of the vote when he ran in the 2011 general-election city clerk of courts race against incumbent Sarah Brown-Clark, and 12 percent of the vote in the 2009 Democratic mayoral primary against Williams.
Kitchen, Crea and Bellamy are running as independents.
There are also two write-in candidates.
Claudette Moore, a political newcomer who admitted she sold cocaine from 1989 to 1991, but said she has since turned her life over to God, who "told me" to run for mayor.
Cecil Monroe, who received 34 votes in the 2009 mayoral general election against Williams.
JOHN MCNALLY IV
McNally emerged from the Democratic primary with a 142-vote victory over Jamael Tito Brown, city council president.
His opponents and panelists at candidate debates raise questions about his indictment on political corruption charges related to the county's purchase of Oakhill Renaissance Place. The indictment was dismissed in July 2011.
That state case was dropped at the request of prosecutors who said federal authorities would not release about 2,000 hours of tapes that may be relevant to the investigation of McNally and others.
When asked about the issue, McNally said, "The charges are dismissed, and I haven't heard from anyone [involved in any possible criminal investigation of him] since. I sleep well at night because this doesn't hang over my head."
If elected mayor, McNally said he would focus on neighborhood demolition and quality-of-life issues.
Though the city's demolition program has "improved," it is still "scattershot," McNally said. "We're not targeting neighborhoods for demolition," he said.
McNally said he recognizes there are restrictions from the federal government on demolition.
Sometimes there are "calls for some form of civil disobedience [to] take down entire blocks rather than one on a street in need of eight" demolitions, he said.
Quality-of-life issues that need focus include not allowing people to leave their garbage cans out too long or permitting cars to be parked on front yards, he said.
"The city has to pay attention to the neighborhoods," he said.
When police are not investigating crimes, they can knock on people's doors and politely ask residents who break these laws to follow them, McNally said.
DEMAINE KITCHEN
Kitchen is dealing with allegations of sexual harassment from Lyndsey Hughes, the city's downtown director of events, special projects and marketing, who contends he sexually harassed her on and off since January 2011.
Kitchen denies the claims and questions the timing of them a few weeks before the election and coming from Hughes, who has supported McNally for mayor. Another female city employee had alleged Kitchen made inappropriate sexual comments to her in December 2012 but didn't file a formal complaint.
Kitchen has also had to answer questions about delinquent taxes he owed to the city, county and state as well as a foreclosure and other financial problems.
Kitchen, who heads the city's demolition program, said it is doing well but can only do so much because of limited finances and federal Environmental Protection Agency regulations.
As for McNally's "civil-disobedience" suggestion, Kitchen said, "There would be serious fines" for violating federal regulations.
Kitchen also said McNally "clearly has no idea what it takes to run a demolition program. It's not that easy."
If elected mayor, Kitchen said his priorities would include "safer streets, better schools and more jobs."
His safer-streets initiative includes a more visible police presence, expanding curfew sweeps and a consolidation with the county of emergency 911 systems.
Better schools, Kitchen said, includes creating a mayor's commission on education to examine the challenges and opportunities facing students and education grants from the city for after-school programs for students and parent-centered programs.
Job creation includes continuing the city's small- business initiative program, increasing the use of business parks and expanding the central business district to provide financial incentives for new investment, Kitchen said.
JOHN M. CREA
Crea, who's received considerable attention for his arrests, said, "I'm in your face. If you don't like it, don't vote for me."
If elected, Crea said he wants to change the name of Youngstown to Hope, to give the city a fresh start. Along with that, Crea said he'd change his name to Jonathan Furious Carma.
"I'll lead by example," Crea said.
To improve neighborhoods, Crea said he'd focus on urban beautification and restoration by persuading corporations to provide money for those efforts.
FRANK BELLAMY
Bellamy said he is running as the "alternative" candidate to the allegations and issues facing others in the race.
Bellamy's platform includes protecting senior citizens from crime, which will improve their quality of life.
"They're afraid to come out of their homes," he said. "I would create locations on each side of the city for seniors to go to complain about crime rather than having police go to their homes. When the police come to their door, they don't say anything out of fear that criminals will see it."
Bellamy also says he would decrease the city's income tax from 2.75 percent to no higher than 1.75 percent. To make up that lost income, he said he'd "gut" every department in the city except maintain the number in the fire department and add more police officers. "We're in dire straits," he said.
CLAUDETTE MOORE
Moore said running as a write-in is "a great challenge, but "God told me to run for mayor."
Losing is out of the question, she said.
"The voters are going to write my name in," she said, adding "The people of Youngstown lack knowledge."
Moore said her focus is on improving the economic conditions of the city's poor.
She said she was a cocaine dealer in the city between 1989 and 1991, and her father was a hit man for organized crime in Youngstown.
She said she's changed her life, "apologized to the community," and works to make the city a better place.
Several attempts by this newspaper to reach Monroe were unsuccessful.