HAPPY 100th BIRTHDAY Marie T. Murphy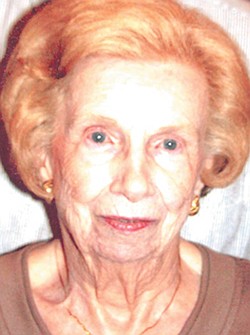 Photo
HONOREE
Residence: Youngstown.
Date, place of birth: Oct. 24, 1913, in Youngstown.
FAMILY
Parents: Michael and Bridget Murphy.
Siblings: Kate, Peg, Rita,Theresa, Betty, Loretta, Elizabeth, Jim and Dan are deceased. A brother, John T. Murphy, lives in Boardman.
Spouse: Single.
Nieces: 13.
Nephews: 7.
BACKGROUND
Education: Attended St. Patrick Elementary School and is a 1933 graduate of South High School.
Employment: Worked at the General Electric Plant in Youngstown and for Northside Hospital.
Church membership: St. Dominic Church.
ADDITIONAL INFORMATION
History: Her mother, Bridget A. Durkin, was born in County Mayo, Ireland, and her father, Michael J. Murphy, was born in County Cork, Ireland. They had 11 children, and nine are deceased.
CELEBRATION
Date and location: Party took place Oct. 19 from 6:30 to 9:30 p.m. at St. Dominic Parish Center.