Family honors Madelines for 50th anniversary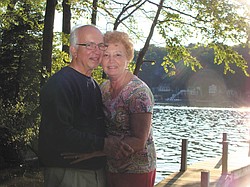 Photo
Mr. and Mrs. Daniel Madeline
HUBBARD
Daniel and Joann (Sebastian) Madeline of Hubbard were married Oct. 19, 1963, and were honored by a surprise getaway in August in Findley Lake, N.Y., to celebrate their golden anniversary.
Their children and grandchildren hosted the celebration.
Their children are Dan Madeline of Hubbard; Beth Madeline of Rome, Italy; and Drew and Michelle (Madeline) Stephens of Akron.
The couple's grandchildren are Danny and Gina Madeline of Hubbard and Jacob, Cale and Gabe Stephens of Akron. All attended the celebration.
The festivities continue this month with family and friends at the Madelines' vacation home in Florida.