SENIOR SALUTE- BAND EDITION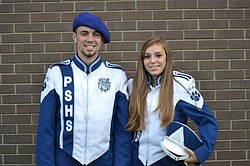 Photo
Neighbors | Submitted .JOE RISI and SARAH COMSTOCK
Names: Joe Risi; Sarah Comstock
Instruments: Percussion/Quads; French Horn and Mellophone
Q. When did you start playing your instrument?
A. Risi: When I was in the fifth grade I because playing the drums. However, I was hitting pots and pans as a toddler.
Comstock: I actually played the Saxophone for three days, but then I switched to the French Horn when I played it on the instrument testing day in the fifth grade.
Q. Best memory of being in band/marching band?
A. Risi: When I was a Freshman and found out I would be playing the Quads. The Quads are Tenor drums which are used as a marching percussion instrument, commonly as mounted sets of 4-6 drums allowing one person to carry and play multiple drums simultaneously.
Comstock: One of my favorite memories is when the Mellophones got up and danced to the pep band song Apache (Jump On It) during full band rehearsal in my Freshman year of band camp.
Q. What band trips did you attend, and which trip was your most memorable?
A. Risi: My favorite is the Massillon Band Night each year.
Comstock: I have been on all of the Cedar Point trips, one opera trip where we saw the Barber of Seville, and the New Orleans trip for the BCS National Championship half-time show, which would definitely be my most memorable.
Q. Why is music important to you?
A. Risi: It is a way for me to let go any negative energy and just relax. Some of my favorite musical numbers that the band has performed is "I Want You Back" by the Jackson Five, because it is groovy and has a retro style.
Comstock: Music is important to me because it contains a lot of emotion and expression. It allows me to let out a lot of my creativity. Some of my favorite pieces are both from my freshman year, "Sing, Sing, Sing" and "Riverdance." The songs were both filled with awesome Mellophone parts and the drills for both songs were really neat. Marching band was a great experience where I have had a lot of fun and made some really great friends. To all of the eighth graders out there that are not sure if they want to do join marching band, I promise you – you won't regret it!
Q. What college do you hope to attend/intended major?
A. Risi: I want to major in Computer Science; however, I am undecided as to which college.
Comstock: I would really like to go to Skidmore College and double major in Biology and Chemistry.