South Side Annex for sale
Tweet
Published: Fri, October 18, 2013 @ 12:00 a.m.
County commissioners get down for earthquake drill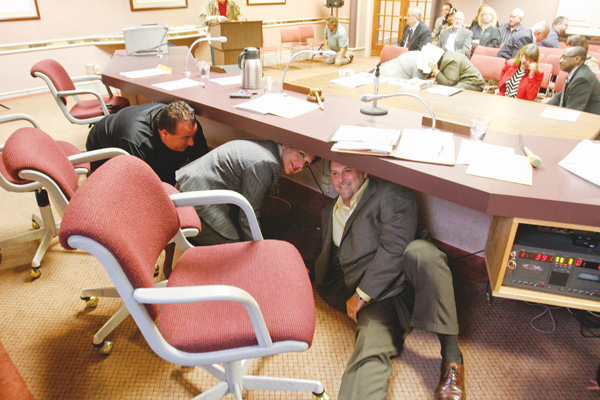 Photo
Mahoning County commissioners, from left, Anthony Traficanti, Carol Rimedio-Righetti and David Ditzler, take cover at 10:17 a.m. Thursday in the midst of their meeting in the basement of the county courthouse. They took part in a regional earthquake preparedness drill, known as the Great Central U.S. ShakeOut.
YOUNGSTOWN
The Mahoning County commissioners voted Thursday to advertise the Mahoning County Annex on Market Street for sale to the highest bidder.
Also at their meeting, commissioners took part in a regional earthquake preparedness drill.
The minimum bid is $426,667 for the annex, which is appraised at $640,000.
Potential bidders may tour the building at 11 a.m. Nov. 1; bids will be opened at 1:30 p.m. Nov. 20 in the county purchasing office.
If nobody bids the minimum, commissioners may reappraise the property, said James Fortunato, county purchasing director.
The county bought the annex, which had been a Sears and Treasure Island department store, from the Cafaro Co. for $1.6 million in 1975.
The now-vacant annex, 2801 Market St., once housed a host of county offices. The last county agency to leave the annex was the auto title department, which moved to Oakhill Renaissance Place in October 2012.
The delay in putting the annex up for sale was due to the process of removing furniture and surplus items stored there, Fortunato said.
Other annex occupants that moved to Oakhill were the board of elections and veterans service commission. Oakhill is the former Forum Health Southside Medical Center, 345 Oak Hill Ave., which the county bought in U.S. Bankruptcy Court in 2006.
Also on Thursday, the commissioners joined a regional earthquake preparedness drill, known as the Great Central U.S. ShakeOut, during their meeting. The slogan was "Drop, cover and hold on!"
When an earthquake begins, emergency management officials urge people to immediately drop to the floor, take shelter under a sturdy table or desk, and hold on until the shaking stops to reduce the risk of head and neck injuries from falling debris.
Commissioners also approved an agreement with George Roman Auctioneers Ltd. of Canfield to conduct a 3 p.m. Oct. 28 auction of surplus county vehicles and equipment at the county sanitary engineer's office, 761 Industrial Road.
Potential bidders may examine the items for sale from 9 a.m. to noon and 1 to 4 p.m. Oct. 25 and 30 minutes before the auction at the sanitary engineer's office.
Perhaps the most unusual item in the auction is a semi tractor, which was forfeited to the prosecutor's office by Suren Aramyan, 45, a Las Vegas truck driver, who pleaded guilty to attempted felonious assault and vandalism. Aramyan crashed the truck into the Club 76 nightclub in Austintown and damaged several cars after he was ejected from the club on Nov. 24, 2012, police said.
Sale proceeds will be used to make restitution for the damage as ordered by Judge Lou A. D'Apolito of Mahoning County Common Pleas Court, who put Aramyan on probation for five years. The minimum bid for the 2004 Cody Freightliner truck is $10,000.
Other items to be auctioned include cars, vans, dump trucks, pickup trucks, chain saws, a backhoe, a tanker trailer, a tractor mower, and a weed trimmer. All items will be sold in as-is condition.
Commissioners also approved the county mental health board's recommendation to reduce that board from 18 to 14 members.
County Treasurer Dan Yemma, who is also mental- health board chairman, said a large board is "rather unwieldy" and makes it more difficult to achieve a quorum. Because of vacancies on the board, no sitting board members will be displaced, and the vacancies will not be filled, he explained.
Now that the city of Campbell is out of fiscal emergency, Commissioner Carol Rimedio-Righetti said the county will attempt to collect about $75,000 from that city at the rate of $80 per prisoner per day for its inmates, who have been housed in the county jail on misdemeanor charges related to violations of city ordinances.
"If they don't pay, then we, in the general fund, have to pay for those people that are housed in the jail," Righetti said.
The commissioners hired Tara L. Mady as assistant director of the convention and visitors' bureau at $36,005 annually beginning Oct. 28. She is director of marketing and communications at United Way of Youngstown and the Mahoning Valley, where she has been employed since August 2007.