Legacy Dog Rescue of Ohio has tales to tell
---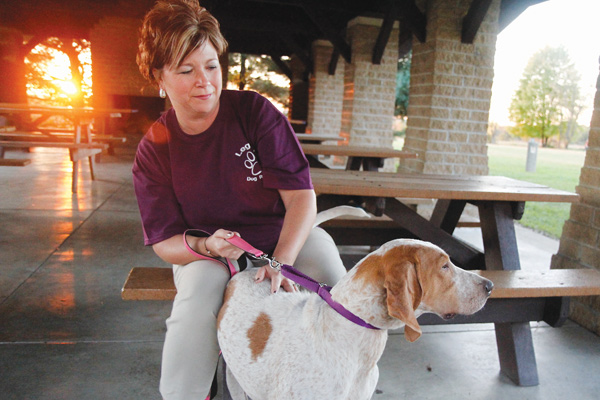 Photo
Paula Cipriano, a volunteer with Legacy Dog Rescue of Ohio, sits with Daisy, a year old English coon hound, in Pogany Pavilion at Austintown Park, where the organization will host Bow-Wow-Ween on Oct. 26. Daisy is among dogs available for adoption through Legacy.
By LINDA M. LINONIS
Youngstown
The thought, "with every paw print comes a story," accompanies Legacy Dog Rescue of Ohio information.
Volunteers in the rescue organization have plenty of dog tales to tell.
Dogs often come from sad circumstances. Many have been abandoned, abused or neglected and wind up at the rescue. Others are pulled from area dog pounds. Melina, an emaciated shepherd mix with a bullet wound on an ear, was removed from deplorable living conditions with three puppies. She'll be ready to adopt after heartworm treatment.
Securing safe and welcoming homes for dogs in its care is the tail-wagging ending that is the rescue's goal. The adoption process includes an application, home visit and check with veterinarian. Animals stay in a network of foster homes until they are adopted. They are cared for, loved and learn to live as part of a family.
Blase Brush and Paula Cipriano, volunteers with Legacy, shared some insights about the rescue.
"It's a full-time job," Brush said. Though he and Cipriano work full time as teachers, rescue involves much of their spare time. "Weekends are filled with adoption events and fundraisers," Cipriano said.
They, like other animal rescue volunteers, do it for the love of dogs. "For me it started when I lost a dog," Brush said. He said he walked dogs at Mahoning County Dog Pound and transported dogs from rescue groups to new homes. He "got fully immersed" in Legacy, which previously was known as Safe at Last.
Cipriano said she never had a dog until after she was married. "I really feel bonded with dogs," she said. "I know they need help."
Brush said Legacy's three main missions are to rescue strays and dogs in pounds and provide necessary medical care, offer a low-cost spay and neuter program and provide a community dog and cat food pantry to help financially strapped pet owners for a short time.
Legacy has 45 dogs and a few cats in its care; adoptable animals are listed on Petfinder.com. Brush admitted some are not adoptable because their "issues are complicated," while others are ill or old. They will remain in rescue care, Brush said.
Among dogs waiting to wiggle into someone's heart are Bobbi Jo, a Labrador retriever and American Staffordshire Terrier mix; Daisy, a full-bred English coon hound; Isabelle, hound and spaniel mix; Griffin, a Shihtzu and Llaso Apso mix; Junior, a Jack Russell Terrier mix; and Greta, a German shepherd mix.
Bear, a husky and shepherd mix, and Izzy, a shepherd mix, also are ready to be adopted; they were rescued from city streets, where they were pals. Rocky, a lab mix, was living in a bush on someone's property until his rescue.
Brush said Legacy takes in all breeds. There are a range of ages with many between 1 and 3 years old, all sizes, males and females. To prepare dogs for adoption, it takes "a lot of patience and training," he said. Fostering animals is a beneficial situation.
Brush and Cipriano said rescue groups are desperately needed because many pet owners contribute to the overpopulation problem by not having their dogs and cats spayed or neutered. They said litter after litter are born while animals in rescue groups and pounds wait to be adopted. "There are just too many animals coming in," he said. Responsible pet ownership, he said, would eliminate the problem. That's why rescue groups and area pounds require spaying and neutering.
"You have to be strong mentally to do this," Brush said of the emotional toll volunteers face. "But you put the animals first."
"There is a lot of heartache," Cipriano said, noting that health and condition issues could have been avoided with proper nutrition and veterinary care.
Cipriano said Legacy relies on "team effort" with each person having different talents that they contribute to the overall success. "No one does anything alone. We work it out together," she said.
In spite of the challenges, Brush said, "I'm committed to this for the rest of my life" ... a feeling shared by many animal rescuers.