All Colts teams victorious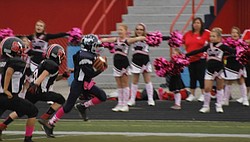 Photo
Neighbors | Submitted.KyRee Long, of the 120 pound team, is pictured as he runs the ball into the endzone for an Austintown Colts touchdown Oct. 13.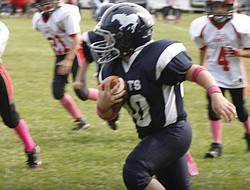 Photo
Neighbors | Submitted.Mark Stankorb (#40) of the 100 pound Austintown Colts is shown running the ball at the game agianst Hickory Oct. 13.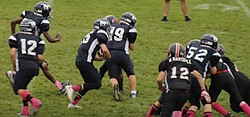 Photo
Neighbors | Submitted.AJ Winterburn, a 140 pound Austintown Colts player, is shown on the carry for the Colts at the game against teh Struthers Little Wildcats.
The Austintown Colts 100 pound team were victorious over the Hickory Little Hornets for the second time, advancing them into the semi finals. Offensively and defensively the entire Colts squad dominated the Hornets. Touchdowns by Dominic Perry and Xavier "Bubba" Amireh led to the final score of 36-0. The Colts will travel to Hickory High School to take on the Howland Little Tigers Oct. 20 at 1 p.m.
The 120 pound Colts improved their record to 8-1 after defeating the Struthers Little Wildcats 24-0 Oct. 13. Offensive standouts Donovan Oliver, KyRee Long and Shakir Perkins all scored for the Colts while the defense held the Cats scoreless. The Colts will travel to Canfield High School to play the Poland Little Bulldogs in the semifinals.
The Austintown Colts 140 pound team also took on the Struthers little Wildcats. The Colts traveled to Struthers Oct. 13 for their chance to advance to the YAC SEMIFINIALS. Outstanding plays by Rod'dell Bebbs, Cole Tidswell, Lorenzo Russo.
Dakota Edwards, Jacob Granger and Bryce Davis led to the Colts 38-24 victory over the Wildcats. The 140 pound Colts will also travel to Canfield High School for a rematch against the Little Falcons Oct. 20.