Mooney, Crestview volleyball teams advance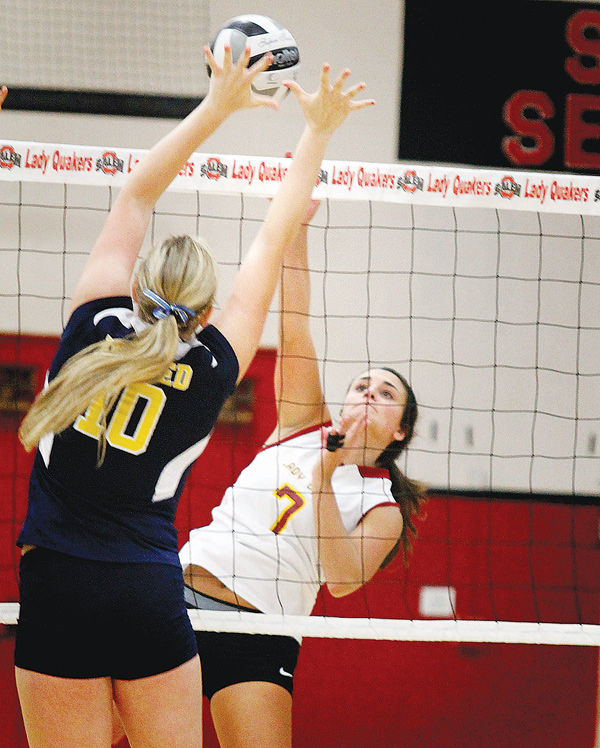 ---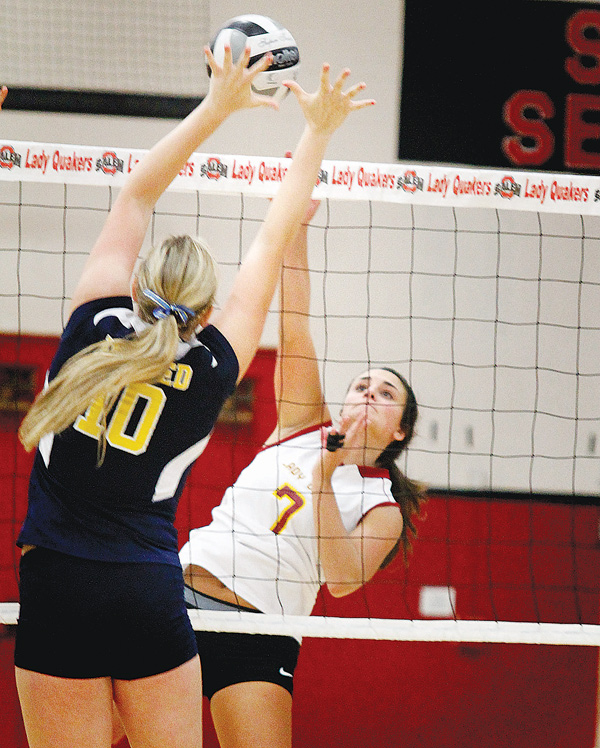 Photo
At left, United's Taylor John (10) tries to keep Cardinal Mooney's Jaclyn Yankle (7) from spiking the ball during a Division III sectional match Wednesday at Salem High School. The Cardinals downed the Golden Eagles, 3-0, to advance to Monday's next round against the Crestview Rebels, who swept Liberty in three games Wednesday in Salem.
Crestview, Mooney outlast sectional foes
By TIM CLEVELAND
sports @vindy.com
SALEM
Cardinal Mooney entered Wednesday night's Division III volleyball sectional final a prohibitive favorite against United.
The Golden Eagles gave Mooney a tough first game, but the Cardinals rallied back for the win. It was all Mooney from that point, winning 26-24, 25-14, 25-14.
"We were down 23-18 (in Game 1)," Mooney coach Tony Gorvet said. "United came in emotionally high. We tried to play all year on an even keel without getting jacked up. We try to stay at one level and try and wear our opponent down."
After United's Claudia Rockhold put away a kill to give her team a 23-18 lead in the first game, the Cardinals got to work in an effort to come back.
McKenzie Reese and Nichole Webber — a pair of juniors — paced the rally. Webber had a kill to make it 23-21, then Reese added two more to draw even at 24. After Gina Patella had an ace to give Mooney a one-point lead, Webber capped a long rally with the winning kill.
"I always try and pump up my team," Webber said. "They had amazing passes tonight so I think everything just went together. Teamwork was key."
The duo were at it again in Game 2, as Webber had a block and a kill for an 18-13 lead, and Reese six consecutive points to give her team a 24-13 lead.
"I think we started off a little nervous," Reese said. "We have a lot of potential in this tournament and I think that we were just nervous coming in. My teammates really helped me throughout this game."
Reese had 21 points and 13 kills while Webber added 12 kills and four blocks.
"Our girls play great as a team; they play well together," Gorvet said. "There's no seniors; all juniors and one sophomore and they have confidence in one another that the game's not over until it's over.
"I think (winning Game 1) took the air out of United. They played strong; they're a good team and well-coached. They gave us all we wanted."
United coach Troy Brunner said his team's mistakes played a big role in the match.
"Overall, we made a few mistakes and let them get a point here and there," he said. "They're a good team, so good teams find ways to get back in the matches when they get behind.
"I don't think there was any big surprise. We helped them, gave them a few errors, and they're a solid team and they put the ball away when they needed to."
Mooney will play Crestview in a district semifinal Monday at 5:30. The Rebels were in a nip-and-tuck match against Liberty, but earned a hard-fought 28-26, 25-22, 26-24 victory.
"We couldn't get over the hump in any game," Liberty coach Dave Sewell said. "Give credit to them; they just kept us on our heels all night long and we couldn't turn the tide. There's a reason why they have 15, 16 wins, because they're a good team."
Leading the way for Crestview, both in the decisive Game 3 and throughout the match, was Brooke Harper.
"We went into this game not really sure how we were going to do," she said. "We knew one thing: we had to go in with fire underneath us; we had to go in strong. If we made a mistake, we just had to forget about it. That was really our strongest point tonight. We just played as a team and we went out strong and we didn't stop."
Just a sophomore, she had a match-high 23 kills, with a good number of them coming in clutch moments.
"I don't believe it was my strongest front row tonight, but back row I believe I did fairly well," Harper said. "I went out strong and I did the best that I could. I guess that was enough for tonight."
Harper had a pair of kills in the third game for 19-18 and 21-18 leads. She had another to give the Rebels a 23-19 advantage. After Liberty had come back for a 24-all tie, she put away one final kill for a one-point lead.
"Brooke has really turned it on the last couple weeks," Crestview coach Alisha Auer said. "She's a very solid all-around player. She's very aggressive; not afraid to take some big swings and they pay off."