Penguins have lots of weapons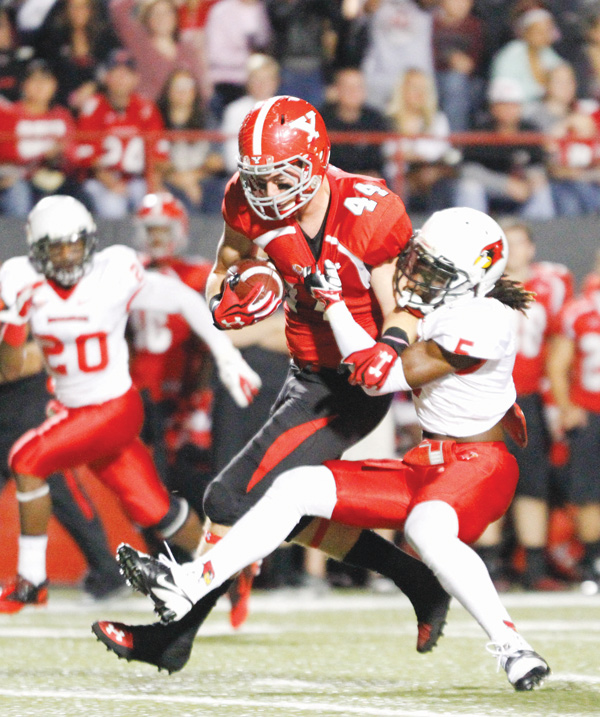 ---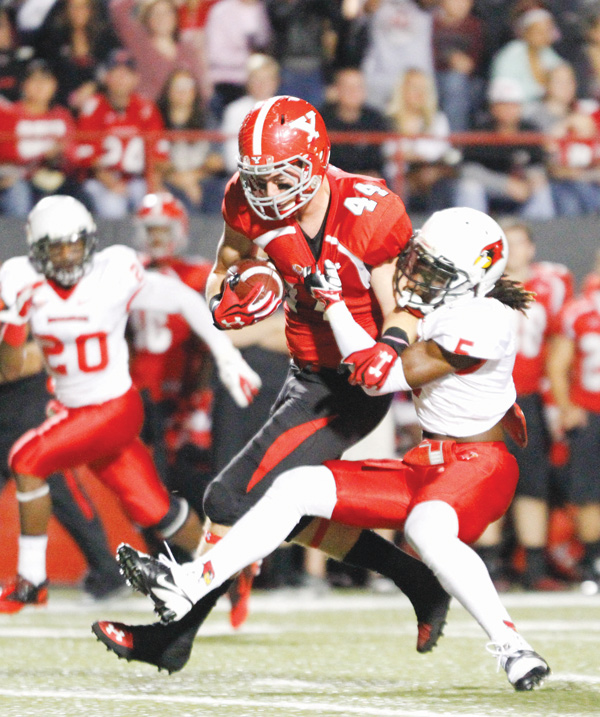 Photo
YSU tight end Nate Adams is corralled by Illinois State's Tevin Allen after catching a 27-yard pass for a first down in Saturday's 59-21 win at Stambaugh Stadium. This weekend, Western Illinois will try to disarm the Penguins' arsenal of weapons.
By Joe Scalzo
Youngstown
After watching film of Youngstown State's 59-point outburst against Illinois State, maybe the first task facing Western Illinois coach Bob Nielson isn't how to stop the Penguins.
It's who to stop.
"They've got multiple skill players that are all very talented," Nielson said. "They've got a lot of weapons. It's not just the quarterback, it's some talented running backs and good people on the perimeter.
"I think they've got a better balance in their attack, both in terms of the number of people who can hurt you and also the balance between their run and pass. From that standpoint, they're probably as good as anyone we've played."
YSU quarterback Kurt Hess is coming off a career-best 311-yard passing game to go with four touchdown passes and a rushing touchdown in just three quarters.
"He's obviously a great one," Nielson said. "He's a guy that's battled-tested, experienced and does a tremendous job leading the offense."
While freshman running back Martin Ruiz has been YSU's breakout player, the Penguins showed off their backfield depth against the Redbirds after he went down with an ankle injury in the second quarter. Fellow freshman Jody Webb rushed seven times for 76 yards and a TD and sophomore Demond Hymes, who saw his most extensive action since injuring his ankle in the preseason, added 65 yards on nine carries with a TD.
"He looks pretty good, doesn't he?" YSU coach Eric Wolford said of Hymes. "Jody Webb is pretty good, too. Those guys are all good."
While those three backs combined for all but 32 of YSU's 258 rushing yards, the bulk of Hess' passing yards were shared by six different players, who all had at least 20 yards receiving. Sophomore receivers Marcel Caver, Andrew Williams and Andre Stubbs led the Penguins with three receptions each, with Caver recording a team-best 99 yards and a TD.
"Kurt shares the ball," Williams said. "It's not like he has a favorite receiver. If you're open, he's going to throw you the ball. He's a good quarterback to be under."
While Wolford complained about YSU giving up two sacks to ISU — "That should never happen," he said — it's clear the Penguins' success starts up front.
In conference-only games, YSU leads the Missouri Valley in scoring (40.7 per game, more than 12 points better than second-place North Dakota State), total offense (439.7 yards per game, 14 better than second-place Southern Illinois) and is second in both rushing offense and passing offense.
"You have to control their offense to a certain extent," Nielson said. "You're never going to stop them."