O.C.C.H.A. plans annual gala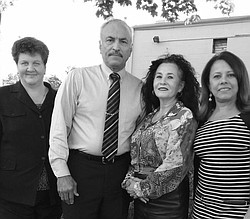 Photo
SPECIAL TO THE VINDICATOR Hard at work preparing for the gala fundraiser planned by Hispanic American Civic and Cultural Organization are, from left, Susan Nieves, executive director; Hector Colon, event chairman; Minerva Colon, O.C.C.H.A. board president; and Dr. Consuelo Mendez, O.C.C.H.A. board member and event committee member.
Staff report
BOARDMAN
Hispanic American Civic and Cultural Organization will have its annual fundraiser gala Nov. 1 at The Georgetown Banquet Center, 5945 South Ave. The event will mark 41 years of O.C.C.H.A.'s service in the community.
Changing Lives Through Education will be the theme for this year's event. A social hour will begin at 5:30 p.m., followed by dinner at 6:30 during live music provided by Steve Fazzini. Afterward, DJ Chico will provide dance music until 11 p.m.
Auction items include a 43-inch flat screen TV and a Captain's Table private dinner with the chef. There also will be a 50-50 raffle.
Tickets are available in advance only, at $50 per person. The deadline to buy tickets is Oct. 24. For information call O.C.C.H.A. at 330-781-1808 or Hector Colon at 330-550-0186 or email occha.youngstown@gmail.com.
Scholarship awards total $15,000, and the recipients are Ivan Ramos, O.C.C.H.A. Changing Lives Through Education Scholarship; Daisy Corso and Grimilda Santiago, Ocasio Scholarships; Gabriella DeAscentis Viana, LAMA scholarship; Olivia Pacheco, Romero Scholarship; Steven Vidman Molina, Hispanic Professional Scholarship; JoAnn Villanueva, Caraballo-Vettori Scholarship; 22 students to Youngstown State University, Shorty and Elba Navarro Scholarships; and open, Dr. Becerra Scholarship.
Colon is event chairman, and Elba Navarro, Aida Pacheco and Rosa Tirado serve as co-chairs. Committee members are Ana Bobby, Maria Colon, Minerva Colon, John Jemison, Dr. Consuelo Mendez, Teddi Noday, Miriam Ocasio, Will Pacheco, Nancy Pagan, Robert Pagan, Margie Santiago and Leoncio Tirado.