High school for autistic children opens on South Side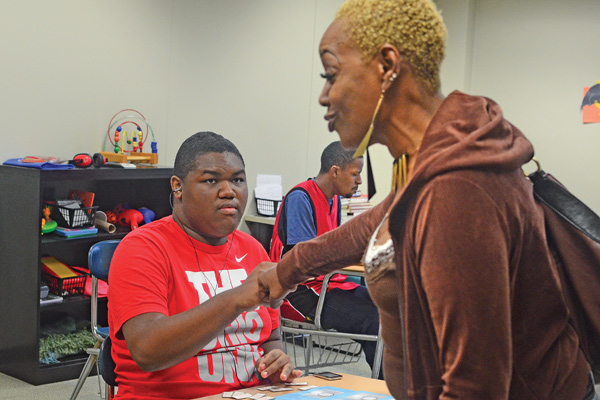 ---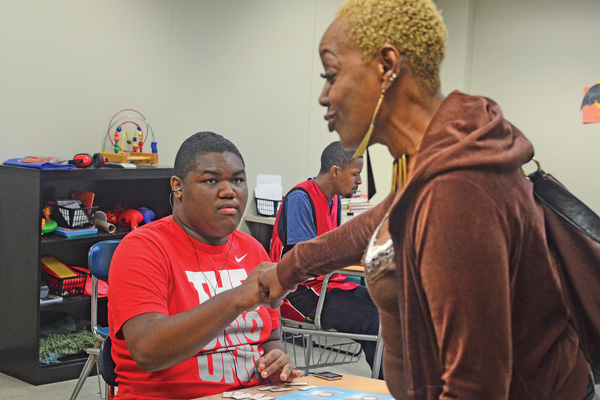 Photo
Maurice Castel, 15, fist-bumps his aunt, Bonnie Hunter of Wisconsin, after he finished a lesson at the new Potential Development High School for Autism in Youngstown. Maurice is nonverbal but has shown improvement through the Potential Development program. The non-charter public school for teens in grades nine through 12 on the autism spectrum had a ribbon-cutting Wednesday.
By Sean Barron
YOUNGSTOWN
When Elaine Wilson's son, Maurice, was diagnosed with autism at age 2, she was barely able to pronounce the word, let alone figure out her next step.
"He tugged at his ears a lot. The doctor thought he had an ear infection," Wilson said of her son, now 15.
The diagnosis followed several more doctor visits, but Wilson then had to face and deal with what many parents in her situation experience: isolation.
Nevertheless, that feeling began to dissipate when, at 5, Maurice was enrolled in the Potential Development program.
Today, Maurice, who enjoys playing baseball, listening to music and watching movies, is continuing to thrive, thanks to the recent opening of a new high school designed for those on the autism spectrum.
Wilson and Maurice's aunt, Bonnie Hunter, were among the estimated 50 family members, mental-health experts, therapists and others on hand for Wednesday's ribbon-cutting and grand-opening ceremony to usher in the new Potential Development High School for Autism, 2405 Market St. on the South Side.
The nonpublic charter school for teens in grades nine through 12 on the autism spectrum opened its doors Sept. 23.
The 30,000-square-foot campus also is one of three such facilities in Ohio. It provides therapeutic and educational opportunities to those on the spectrum in Mahoning, Trumbull and Portage counties.
Roughly one in 88 births results in an autism diagnosis, according to the latest figures from the Centers for Disease Control and Prevention in Atlanta.
Many people on the spectrum, which ranges from mild to severe, have a variety of social-skills, language, sensory and speech delays and impairments.
Autism characteristics include unusual sensory anomalies such as continual hand flapping and spinning, little eye contact, an unusual need for repetition and self-preservation, and a preference for objects instead of social interaction.
"Only 56 percent of students with autism-spectrum disorder graduate high school," noted Paul Garchar, Potential Development's executive director.
Garchar said the new high school has 18 students, nearly all in ninth and 10th grade.
The school's main goals are to better equip the students who have social and communication challenges to graduate, possibly attend college and experience greater success and independence in employment and other aspects of life, he explained.
Within the last 12 years, Potential Development's building on Woodland Avenue has been "expanding at the seams," which reinforced many parents' desire to continue services to their children on the spectrum as they get older, noted Jim Miller, the agency's board chairman.
Conducting tours of the renovated building — it formerly housed Anthem Blue Cross/Blue Shield offices — was Shellie Duchek, Potential's development officer.
Duchek noted that occupational therapists work once or twice weekly with the students.
In addition, she said, the facility has a room for those with sensory challenges, as well as space for parents experiencing difficulties to meet weekly with a social worker.
The remodeled basement will soon offer a model apartment to enhance the students' life skills such as cooking and cleaning.
Offerings also include a room for group activities, a fitness center and a large area for music and fine arts, Duchek continued.
Wilson said that despite her son's inability to speak, he continues to blossom in large part because of the services he's received, courtesy of the Potential Development program.
"He's nonverbal, but he understands everything," she added.